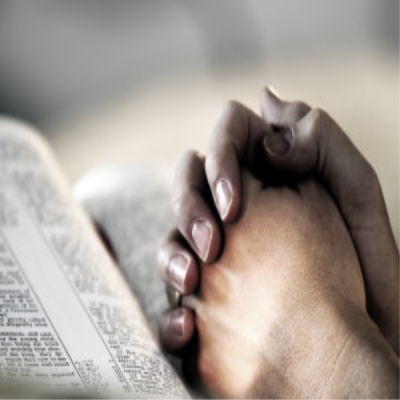 All We Can Do Now Is Pray?
"The effectual fervent prayer of a righteous man availeth much" (James 5:16 KJV).
I was recently talking with a friend of mine whose wife is in hospice care.  He has been keeping in close contact with his pastor and passing along daily medical updates.  Each day the pastor told my friend to "hang in there" and then politely end the conversation.  Eventually her condition became critical and the doctors estimated that she only a few more days to live.  My friend spoke to his pastor that day and relayed the devastation news.  The pastor said, "All we can do now is pray."
I was heart broken when my friend told me this story.  I was sad that he was about to lose his wife, but also sad that the pastor did not invite the Holy Spirit to be present at the beginning of the process.  Prayer is not the last thing we do.  It is the first thing we do.  One of my favorite Bible verses is, "The effectual fervent prayer of a righteous man availeth much" (James 5:16).   We are made righteous through the blood of Jesus and our prayers are powerful.  Certainly, God does not always answer our prayers in the way that we want.  However, our prayers are a form of worship, and He will honor that.  We were made to worship Him rather than to fully understand Him.
Our prayers when offered in confidence and thanksgiving may not always bring about our desired outcome but they will bring about peace.  Philippians 4:6 teaches, "Do not be anxious about anything, but in every situation, by prayer and petition, with thanksgiving, present your requests to God."  Unanswered prayers will certainly test our faith and an appropriate response might be to say, "God, I do not like this or understand this, but I know you will work this out for good so I trust you and I am claiming your promises."
2 Chronicles 20 tells an amazing story of King Jehoshaphat when he was confronted by three overwhelming armies. I realize you may not be facing an army to overtake your kingdom, but we sometimes are placed in what appears to be a hopeless situation. The king modeled for us the proper sequence of steps to take in such a situation. First, pray to God. This is putting Matthew 6:33 into action. "But seek first His kingdom and his righteousness."
Then, take action based on His guidance. After the king's prayer, the Spirit of the Lord came and said, "Do not be afraid or discouraged because of this vast army. For the battle is not yours, but God's" (2 Chronicles 20:15). The people sang songs of praise (worship) and went out to watch the battle as instructed by the Spirit. The three armies destroyed each other. This is a perfect example of "the battle belongs to the Lord (1 Samuel 17:47). All battles belong to the Lord, not just physical battles.
The faith of a mustard seed can do amazing things. It doesn't always do amazing things, but it always has great potential. We can best position ourselves to tap into God's power when we live in accordance with His Word. So, don't pray as a last resort. Instead, follow the instruction and promise of Matthew 6:33. Be blessed as you bless others.
Prayer:   Dear God, Forgive us when we rush ahead and do what is right in our own eyes.  Help us to always pray first and seek Your guidance and know that the battle belongs to You.
Todd Shupe is a Men's Ministry Specialist through the General Commission of United Methodist Men and is in training to be a Certified Lay Minister through the Louisiana Conference of the United Methodist Church. He currently serves as the President of the Baton Rouge District of United Methodist Men and is a Board Member for Gulf South Men and serves on the Action Team for The Kingdom Group. He is a volunteer for the Walk to Emmaus, Grace Camp, and Iron Sharpens Iron. Todd resides in Baton Rouge, Louisiana.
We welcome your comments below.
Thank you for visiting. We trust that you have enjoyed reading our articles.
Read more below or search for more topics...
Finding the Fruits of the Spirit "If we live in the Spirit, let us also walk in the Spirit.  Let us not be desirous of vain glory, provoking one another, envying one another" (Galatians 5:25-276 KJV).I love to watch St. Louis Cardinals baseball games on television.  I played little league baseball but knew at a very young age that I would never play professional baseball at any level.  I simply did not have the talent.  It was not "in" me.  I had the gift of a strong arm.  However, it was not the strongest by far and when combined with an...

Seek Unity Not Uniformity "Just as a body, though one, has many parts, but all its many parts form one body, so it is with Christ.   For we were all baptized by one Spirit so as to form one body—whether Jews or Gentiles, slave or free—and we were all given the one Spirit to drink.   Even so, the body is not made up of one part but of many" (1 Corinthians 12:21-31 NIV). All members of most sports teams wear a uniform.  This designates they are a part of the same team.  However, each member is not uniform in terms of their role or skill on...

The Traits Of True Leadership "Not so with you. Instead, whoever wants to become great among you must be your servant" (Matthew 20:26 NIV).If you are like me, you have seen several books on leadership. The books are typically authored by successful CEOs of large companies or military leaders. These books are often best-sellers and contain very useful information on the principles of secular leadership. The themes are typically along the lines of this: A leader is a visionary. A leader knows how to delegate. A leader surrounds himself/herself with good people. A leader leads by example. A leader is trustworthy....