Amen is the Beginning of Discipleship
"Be joyful in hope, patient in affliction, faithful in prayer" (Romans 12:12 NIV).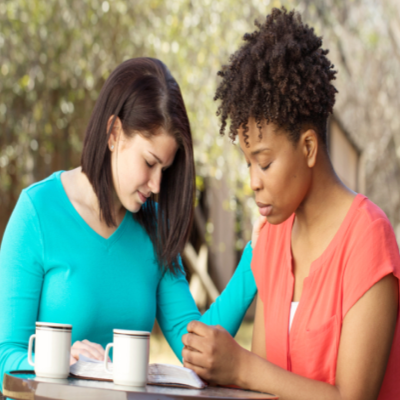 One of the more challenging scriptures for me has been from 1 Thessalonians 5:17, "Pray without ceasing."  The first time I read this I wondered how can I get anything done if I am constantly praying?  As I grew and matured spiritually, I began to believe that it is indeed possible to pray nonstop. It's possible because we can cultivate a spirit that is habitually devotional, keeping our hearts attuned to God. The Greek word for "without ceasing" in 1 Thessalonian 5:17 is "adialeiptos," which doesn't mean nonstop — but actually means constantly recurring. In other words, we can punctuate our moments with intervals of recurring prayer. 
Part of learning to pray continually, or constantly recurring, is to stay open in prayer. Sometimes after we say amen, we check off prayer on our to-do list and shut down the
conversation. But God has invited us — called us — to pray without ceasing, to keep the conversation going all day, every day.  Constant prayer becomes a lifestyle.  The more you understand that God is love, the more you will be drawn to him in prayer.
Jesus did not pray constantly but he did live a prayerful life.  He modelled for us how prayer can and should be used to connect us to the Father.  Prayer is always the first step to anything.  So, it follows that prayer is also the first step to discipleship. 
One of the greatest evangelists of all time was the Apostle Paul.  He was committed to preaching the good news and making disciples.  He also understood that there is an essential link between prayer and discipleship.  Paul told the Ephesians to pray for one another and asked them to pray for him.  "Praying at all times in the Spirit, with all prayer and supplication. To that end, keep alert with all perseverance, making supplication for all the saints, and also for me, that words may be given to me in opening my mouth boldly to proclaim the mystery of the gospel" (Ephesians 6:18-19).  Paul recognized the power of prayer and called upon that power to fulfill the Great Commission.
Prayer:  Dear Good and gracious God, Thank you for the blessing of prayer.  Help us, dear God, to live a life of constant prayer.  A life that is lived in you, for you, and to glorify you.  May all that we do help fulfill the Great Commission and may all of our activities begin with seeking your Face through prayer.  Amen. 
Todd Shupe is a Men's Ministry Specialist through the General Commission of United Methodist Men and is in training to be a Certified Lay Minister through the Louisiana Conference of the United Methodist Church. He currently serves as the President of the Baton Rouge District of United Methodist Men and is a Board Member for Gulf South Men and serves on the Action Team for The Kingdom Group. He is a volunteer for the Walk to Emmaus, Grace Camp, and Iron Sharpens Iron. Todd resides in Baton Rouge, Louisiana.
We welcome your comments below.
Thank you for visiting. We trust that you have enjoyed reading our articles.
Read more below or search for more topics...
A Ministry Making a Positive Impact - The KINGDOM Group! I want to bring to your attention to a ministry that is making a positive impact in locally and nationally.  The KINGDOM Group International, Inc. is a Baton Rouge based organization that is successfully addressing racial and cultural divisiveness.  For the past 3 years this ministry has held meetings and special events that have resulted in very positive changes in the area of unity and reconciliation.Giving a SINGLE GIFTin any amount; orBecoming a MONTHLY DONORof $10, $25, $50, $100 or any amount; orBy giving an "IN-KIND GIFT"(office space, equipment or supplies, volunteering, other donations,...

The Right Prayer Is... "In the same way, the Spirit helps us in our weakness. We do not know what we ought to pray for, but the Spirit Himself intercedes for us through wordless groans.  And He who searches our hearts knows the mind of the Spirit, because the Spirit intercedes for God's people in accordance with the will of God" (Romans 8:26-27 NIV). As Christians, we all know that prayer is our direct means of communication with God.  Through our prayers and petitions we communicate with God our needs, worries, and joys.  Some people have a poor prayer life because they are not certain...

Dealing With Anxiety: Have Faith, For 'God Is Our Partner' "But those who hope in the Lord will renew their strength. They will soar on wings like eagles; they will run and not grow weary, they will walk and not be faint" (Isaiah 40:31 NIV). Waiting is a daily occurrence: We wait in line at the grocery store, post office or on the phone. Sometimes, we are waiting long-term for news regarding a loved one who has suddenly become ill or was in an accident. Waiting is also a part of joyous occasions such as the birth of a child or marriage....