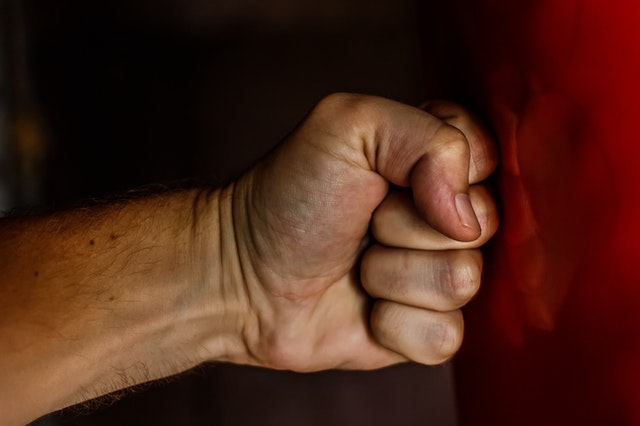 "Fools vent their anger, but the wise quietly hold it back" (Proverbs 29:11 NLT).
Many people think that all anger is bad or sinful.  We tend to associate anger with a loss of control, shouting, and aggressive behavior.  However, anger can be good and only becomes sinful when it is expressed in an inappropriate way.  There is nothing wrong with anger if it is properly directed.  We are taught, "In your anger do not sin" (Ephesians 4:26).  We are less likely to model Godly behavior, and sin, if we are controlled by our anger rather than we control our anger.
Sometimes the most appropriate response to a situation is anger.  I am angry when I see injustice occurring in the world.  I am angry when I see children, elderly, people with special needs, and animals abused.  I am angry when I see churches burned, people killing each other, and babies born that are addicted to drugs due to a drug habit of the mother.  I am angry at the lack of anger of others when they see oppression, injustice, and abuse.  I am reminded of an often-quoted line of a letter from Edmund Burke to Thomas Mercer – "The only thing necessary for the triumph of evil is for good men to do nothing
Did you ever consider that anger can be an act of love?  Of all of the Synoptic Gospels, I like the imagery of John 2 as it describes the anger of our Lord as he encountered the money changers outside the Temple.  Scripture tells us that He became angry, fastened a whip out of cords, and overturned their tables. I see this as an act of love for the Temple (God's house), but also discipline for His children.  As parents we discipline our children out of love.  I can only imagine the love that Jesus had for His children then which surely extends to us all today.  The Psalmist wrote, "Give thanks to the Lord because He is good.  His love continues forever (Psalm 136:1).
The Bible says God gets righteously angry, and we are able to experience anger because we are created in His image.  However, anger certainly can, and often does, lead to sin, which separates us from God.  We often make poor decisions when we are angry so perhaps that is why Scriptures urges us to be "quick to listen, slow to speak and slow to become angry" (James 1:19).
While uncontrolled anger is a sin, controlled anger is beneficial because it gives us a clear-headed view of the situation and allows us, due to His grace, to turn the other cheek and respond with God's love.
One of the greatest blessings we have from God is free will, and we can use that when we have been wronged.  Nobody can make us mad.  We choose how to handle our anger.  This is often not easy but with the help of the Holy Spirit it is certainly possible. 
Proverbs 29:11 says, "Fools vent their anger, but the wise quietly hold it back."  Our relationship with Christ is critical to determine how well we master the anger in our lives.  When anger is managed wisely and appropriately, the fruit is great marriages, families, friendships, communities, and churches.  Our anger can be used to bring honor and glory to Him and reveal a powerful witness. 
Prayer:  Dear God, Please help us to be quick to listen, slow to speak and slow to become angry.
Todd Shupe is a Men's Ministry Specialist through the General Commission of United Methodist Men and is in training to be a Certified Lay Minister through the Louisiana Conference of the United Methodist Church. He currently serves as the President of the Baton Rouge District of United Methodist Men and is a Board Member for Gulf South Men and serves on the Action Team for The Kingdom Group. He is a volunteer for the Walk to Emmaus, Grace Camp, and Iron Sharpens Iron. Todd resides in Baton Rouge, Louisiana.
We welcome your comments below.
Thank you for visiting. We trust that you have enjoyed reading our articles.
Read more below or search for more topics...
Getting To The Heart Of The Issue Over the years, I have spoken with many Christians and enjoyed having the opportunity to hear their testimony. Some are "intellectual Christians," so to speak, and believe that science has proved the existence of Christ and therefore they also believe. Many have provided me with compelling arguments for their Christian faith.   I also believe in Jesus and in science. However, at the heart of the issue is our heart.  Do you believe in Him in your heart and seek him with your whole heart? Jesus taught us in Matthew 22:37, "Love the Lord your God...

Recipe for Joy "I will continue to rejoice. For I know that as you pray for me and the Spirit of Jesus Christ helps me, this will lead to my deliverance" (Philippians 1:18-19 NLT). I love to cook.  As any chef will tell you, the key to a good dish is the proper ingredients.   Sometimes if I cook something good, I wonder what can I add to make it great?  God is known by many names but is seldom referred to as the "master chef."  However, He provides all the ingredients we need to regain our joy. Sometimes in life things are simply falling...

Grace Upon Grace: An Exploration Of God's Love And How To Receive It "For sin will have no dominion over you, since you are not under law but under grace" (Romans 6:14 ESV). We are created with a deep need to be loved.  There are two radically different kinds of love: conditional and unconditional. Conditional love involves bargaining and there are conditions that we must meet in order to receive love from others. Such conditional living is exhausting, involving a treadmill of constant doing in order to earn and maintain love. Unconditional love is radically different, involving a conversion of our motives. The Christian...