Attention Fathers! Little Eyes Are Watching
"Little children, let us not love in word or talk but in deed and in truth"  (1 John 3:18 ESV).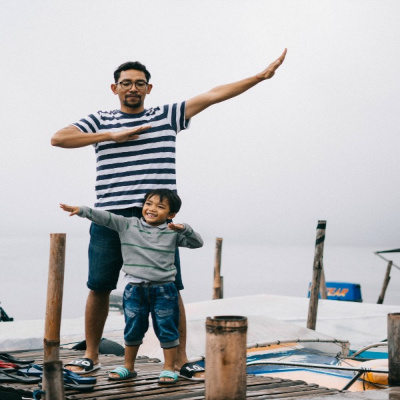 Theodore and Nancy Faust Sizer authored the book The Students are Watching.  The Sizers wrote about classrooms and schools, explaining that students learn from what their teachers do and say, and also from the things their teachers do not do or say.  One significant finding from the book was "They watch us all the time. The students, that is. They listen to us sometimes. They learn from all that watching and listening."  Children are also learning at home.  They are watching both parents.  Daughters look to their father to understand what is a Godly man.  Sons learn from their father how to treat women.  Much of what our children learn at home is learned by watching. 
The most important thing with children is what you do, not what you say.  How effective is it for a father to tell his son not to use tobacco while the father is smoking a cigarette?  As a young
boy, I was always watching my father.  I understood that his words were true because they were supported by his actions.  I was blessed because he brought me up in accordance with Ephesians 6:4.  "Fathers, do not provoke your children to anger, but bring them up in the discipline and instruction of the Lord."  My father not only made sure I attended church to hear the Word proclaimed, but he did his best to model authentic manhood for me by showing kindness to strangers, those in need, and loving my mother.
Our prisons are filled with young men that grew up without a father present in the house. Sadly, many times when the father was present he was not engaged in raising the child. Proverbs 22:6 teaches us, "Start children off on the way they should go, and even when they are old they will not turn from it."
It has been said that the best sermons are lived and not preached.  This is not meant to diminish the importance of the spoken Word.  The Word is powerful and is the only offensive weapon in the armor of God.  It is meant to emphasize the importance of what we do because little eyes are watching to see if our actions correspond to our words.
Prayer:  Thank you for the blessing of children.  May be always be mindful of our joyful responsibility to properly raise them.  Keep us mindful of our words and actions so that they will help us to raise up children that seek you first.  Amen.
Todd Shupe is a Men's Ministry Specialist through the General Commission of United Methodist Men and is in training to be a Certified Lay Minister through the Louisiana Conference of the United Methodist Church. He currently serves as the President of the Baton Rouge District of United Methodist Men and is a Board Member for Gulf South Men and serves on the Action Team for The Kingdom Group. He is a volunteer for the Walk to Emmaus, Grace Camp, and Iron Sharpens Iron. Todd resides in Baton Rouge, Louisiana.
We welcome your comments below.
Thank you for visiting. We trust that you have enjoyed reading our articles.
Read more below or search for more topics...
Evil Can Occur During Church "So I find this law at work: Although I want to do good, evil is right there with me"  (Romans 7:21 NIV). I am angry about the continued shootings at our churches. Our churches are God's house on earth.  Psalm 46:1 teaches us, "God is our refuge and strength, an ever-present help in trouble" (Psalm 46:1).   I think we can substitute "church" for "God" in the scripture.  As Christians we seek out His refuge and strength, particularly on Sunday mornings as we gather with the Body of Christ.   This is a special, holy, sacred time.  It should...

Give to Receive? "You will be enriched in every way so that you can be generous on every occasion, and through us your generosity will result in thanksgiving to God" (2 Corinthians 9:11 NIV). Most Christians understand the need for giving.  For early Jews and Christians, almsgiving was the act of filling a material need for someone less fortunate, usually by giving money. God incorporated the concept of alms into the Mosaic Law when He ordered land-owners to leave to the poor the corners of the fields (Leviticus 19:9-10), and every seventh year, leave the entire field (Exodus 23:10-11). In churches today, "alms"...

Men, You Can Add Power to Your Prayers! "Therefore I tell you, whatever you ask for in prayer, believe that you have received it, and it will be yours" (Mark 11:24 NIV). Our prayers already have great power – more than we can ever imagine.  The problem is that we often fail to recognize the power of our prayers.Prayer is an open line of communication with God.  The idea that we have 24/7 ability to connect to the Creator of heaven and earth is hard to comprehend.First, why would God want to talk with us? Is there a right and wrong way...