Be The Same Person Everywhere
"I hate double-minded people, but I love your law" (Psalm 119:113).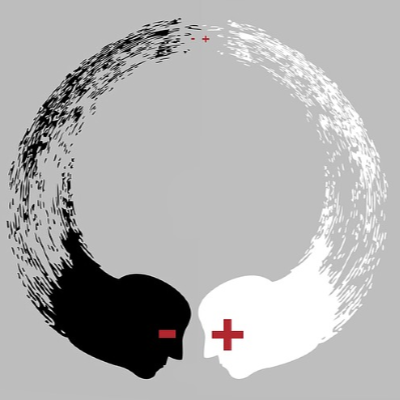 Have you ever heard of the term "Sunday morning Christian?"  This is a derogatory term for people that are Christian on Sunday morning but the complete opposite the rest of the week.  Some of us are a little bit better and we make sure to "act Christian" in public but not in private.  The "Sunday morning Christian" and the "public Christian" are both hypocrites.
The word hypocrite ultimately came into English from the Greek word hypokrites, which means "an actor" or "a stage player." The Greek word itself is a compound noun:  it's made up of two Greek words that literally translate as "an interpreter from underneath."  That bizarre compound makes more sense when you know that the actors in ancient Greek theater wore large masks to mark
which character they were playing, and so they interpreted the story from underneath their masks.  A Christian follows Jesus 24/7 – in public and private.  In our "human condition" we strive to impress others and God with our acts of piety.   Jesus addressed this issue in Matthew 6:1-8.
1"Be careful not to practice your righteousness in front of others to be seen by them. If you do, you will have no reward from your Father in heaven.  2 "So when you give to the needy, do not announce it with trumpets, as the hypocrites do in the synagogues and on the streets, to be honored by others. Truly I tell you, they have received their reward in full. 3 But when you give to the needy, do not let your left hand know what your right hand is doing, 4 so that your giving may be in secret. Then your Father, who sees what is done in secret, will reward you.
5 And when you pray, do not be like the hypocrites, for they love to pray standing in the synagogues and on the street corners to be seen by others. Truly I tell you, they have received their reward in full. 6 But when you pray, go into your room, close the door and pray to your Father, who is unseen. Then your Father, who sees what is done in secret, will reward you. 7 And when you pray, do not keep on babbling like pagans, for they think they will be heard because of their many words. 8 Do not be like them, for your Father knows what you need before you ask him."
Good works are how we show Christian love to others.  However, our works should flow naturally as a result of our love for Christ and our desire to share His love.  Ephesians 2:8-9, teaches us, "8 For it is by grace you have been saved, through faith—and this is not from yourselves, it is the gift of God— 9 not by works, so that no one can boast."
Prayer:  9 "This, then, is how you should pray: "'Our Father in heaven, hallowed be your name, 10 your kingdom come, your will be done, on earth as it is in heaven.  11 Give us today our daily bread.  12 And forgive us our debts, as we also have forgiven our debtors.  13 And lead us not into temptation, but deliver us from the evil one (Matthew 6:9-13).
Todd Shupe is a Men's Ministry Specialist through the General Commission of United Methodist Men and is in training to be a Certified Lay Minister through the Louisiana Conference of the United Methodist Church. He currently serves as the President of the Baton Rouge District of United Methodist Men and is a Board Member for Gulf South Men and serves on the Action Team for The Kingdom Group. He is a volunteer for the Walk to Emmaus, Grace Camp, and Iron Sharpens Iron. Todd resides in Baton Rouge, Louisiana.
We welcome your comments below.
Thank you for visiting. We trust that you have enjoyed reading our articles.
Read more below or search for more topics...
Defeating the Giants in our Lives "David said to the Philistine, "You come against me with sword and spear and javelin, but I come against you in the name of the Lord Almighty, the God of the armies of Israel, whom you have defied.  This day the Lord will deliver you into my hands, and I'll strike you down and cut off your head. This very day I will give the carcasses of the Philistine army to the birds and the wild animals, and the whole world will know that there is a God in Israel"   (1 Samuel 17:45-46 NIV). David was a young boy when he defeated the giant...

What Is The Meaning of "Iron Sharpens Iron"? I am a volunteer with a national men's ministry known as "Iron Sharpens Iron." The name of our group is based on Proverb 27:17, "As iron sharpens iron, so one man sharpens another."  Iron Sharpens Iron is a Conference Network made up of individual ministries that are working interdependently to most effectively offer local church resources for men.This group is accomplishing this by mobilizing ministries to resource local churches with a first-class one-day equipping conference that is designed for men age 13 and older.  These one-day conferences bring in world-class speakers to address...

Love Must Be Shown "Now someone may argue, 'Some people have faith; others have good deeds.' But I say, 'How can you show me your faith if you don't have good deeds? I will show you my faith by my good deeds'" (James 2:18 NLT).Some people think faith is a strong belief in something or someone.  Some may argue that it is a concept or a part of theology.  Faith is so much more than any of that.  The second chapter of James teaches us that real faith transforms lives.   2 Corinthians 5:7 is essential in this regard because it tells us, "For...