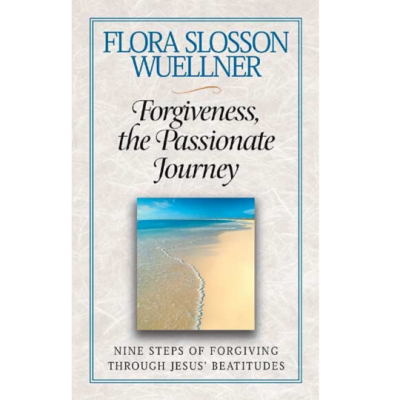 Book Review: Forgiveness, the Passionate Journey Nine Steps of Forgiving through Jesus' Beatitudes by Flora Slosson Wuellner
"I have told you this so that my joy may be in you and that your joy may be complete"  (John 15:11 NIV).
I think most Christians understand that that through the blood of Jesus we have forgiveness for our sins and life everlasting with the Father.  However, many of us still struggle with the concept of forgiveness.  This book uses the Beatitudes, eight blessings recounted by Jesus in the Sermon on the Mount in the Gospel of Matthew, to point the reader toward Jesus as they travel the path of forgiveness. 
This book is helpful for those seeking spiritual growth and insight for healthy, empowered forgiveness of others and forgiveness of ourselves.  Each chapter focuses on a Beatitude and concludes with a healing meditation.  The meditations help the reader to process their emotions by acknowledging that "hurt, hostility, and healing that is hot and Holy ground."
I underlined a section in the Introduction that speaks to the Biblical definition of "blessed."  "To be blessed means two things in Scripture:  It means to be happy, to be fulfilled.  It also means to be empowered by God's love to undertake a task.  The living Jesus Christ not only empowers us for healthy forgiveness but walks the path with us, enfolding us with God's compassion, praying through the pain "that my joy may be in you, and that your joy may be complete" (John 15:11)
The book explains that the central focus of the Beatitudes is "what is happening in our heart's core."  In His sermon, Jesus is addressing release from that which imprisons and corrupts our heart.  This is important because our words and actions are a manifestation of our heart.  Forgiveness is a release from the prison and burden of the past.  Forgiveness is not a release from responsibility.  As we study and pray and grow closer to Christ we are able to do the things that we cannot do on our own.  Through Him we can forgive others and ourselves. 
Those that hurt us are often wounded people themselves.  We will encounter some people in life that knowingly choose to do evil things to other people.  The author states that they are "caught in a prison of self-destruction that almost defies description."  I had not realized that often when people deliberately hurt us they are acting out of a deep inner hurt in themselves.  Instead of giving emotional control to our attacker by feeling angry, we are asked to consider feeling pity and wonder what has happened to this person that has caused them to act in such an evil manner?  This is not done to minimize the hurt, but to facilitate our healing.
The discussion on self-forgiveness will also be helpful for many.  As we learn to listen to our inner selves we also learn to be released from rigid self judgement.  The door is opened for healing and transformation that can only be accomplished by God. 
The author does not advocate using this book in lieu of professional therapy.  The author clearly states in the Introduction that she believes in "prayer plus therapy, especially if the wound, abuse, anger, or fear is deep and longstanding."  The book is available from the Upper Room Bookstore.
Prayer:  Thank you for the Sermon on the Mount.  Help us to find forgiveness and peace in the Beatitudes of Jesus.  Amen.
Todd Shupe is a Men's Ministry Specialist through the General Commission of United Methodist Men and is in training to be a Certified Lay Minister through the Louisiana Conference of the United Methodist Church. He currently serves as the President of the Baton Rouge District of United Methodist Men and is a Board Member for Gulf South Men and serves on the Action Team for The Kingdom Group. He is a volunteer for the Walk to Emmaus, Grace Camp, and Iron Sharpens Iron. Todd resides in Baton Rouge, Louisiana.
We welcome your comments below.
Thank you for visiting. We trust that you have enjoyed reading our articles.
Read more below or search for more topics...
Evil Can Occur During Church "So I find this law at work: Although I want to do good, evil is right there with me"  (Romans 7:21 NIV). I am angry about the continued shootings at our churches. Our churches are God's house on earth.  Psalm 46:1 teaches us, "God is our refuge and strength, an ever-present help in trouble" (Psalm 46:1).   I think we can substitute "church" for "God" in the scripture.  As Christians we seek out His refuge and strength, particularly on Sunday mornings as we gather with the Body of Christ.   This is a special, holy, sacred time.  It should...

A Joyful Life "The thief comes only to steal and kill and destroy; I have come that they may have life, and have it to the full" (John 10:10 NIV).Our society has achieved a point of technological advancement that was unthinkable a mere 10-20 years ago.  In the Western world, we have freedoms of speech and access to clean drinking water that are unheard of in other countries.   All of us, even those barely out of diapers, have smart phones.  However, many Americans are without joy and are seeking answers from pharmaceutical companies to the bottom of a beer bottle.  I...

Approach Prayer With Confidence And Thanksgiving Prayer is an essential component to our relationship with God. We offer prayers for those who are sick or in need of help and prayers of thanksgiving for our blessings. Prayer is also a time for us to be quiet and listen for the gentle voice of God. The Psalmist tells us in Psalm 46:10, "Be still and know that I am God." We all would be wise to focus on this promise while we wait on the Lord."Even if I don't hear a response to my prayer, I can still come away with peace...