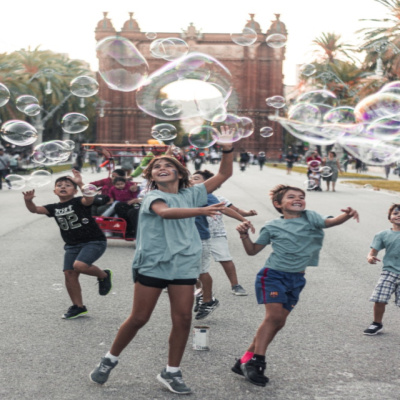 Children of Incarcerated Parents Need Caring Volunteers To Improve Quality Of Life
"Continue to remember those in prison as if you were together with them in prison, and those who are mistreated as if you yourselves were suffering" (Hebrews 13:3 NIV).
The errors that parents occasionally make all too often end up on the shoulders of their children. Failing to secure a well-paying job before having kids, not having a home fit to raise children in or having kids while the relationship between you and your partner is failing are just some signs of a rough road ahead. While the ramifications of some of those mistakes aren't as life-altering as others, ending up behind bars is a monumental disruption that is going to require complicated logistics to work around. Incarceration has a terrible effect on children.  I like to volunteer with Grace Camp and help children of parents who are presently behind bars by going fishing with them.  As simple a gesture as it may be, an afternoon fishing trip is just one example of programs and services that good Christian men and women can participate in if they'd like to help kids in need. In this article, we'll explore some of the facts surrounding the children who so desperately need a compassionate figure in their lives who can also provide a sense of comfort and control.
While government-run or non-profit programs to help these children vary from state to state, the size of the problem can't be under-estimated. For example, recent figures show that a little more than 81,000 children in Pennsylvania alone had a parent in state prison. According to the U.S. Department of Health and Human Services (HHS), children living with one parent while the other is behind bars is the most common outcome. However, grandparents, other relatives, friends, and foster agencies often fill the void. It's easy to extrapolate from here that not every household is equipped to provide the adequate level of care; a grandparent or foster care facility simply can't take the kids out to play the same way that a parent could. The federal Child Welfare Information Gateway further shows that parental rights can be terminated is a child has spent 15 of the past 22 months in foster care or simply abandoned. "With the average sentence being more than 1 year, this requirement can be a significant barrier to reunification for incarcerated parents," a recent HHS child welfare document reads.
These vulnerable children are the ones who need the most love and volunteering your time to help those in foster care while they await adoption is one of the most self-less things an individual can do.  Given that there are an estimated 2.1 million people in jail across the U.S., it's time someone start looking after the lives they left behind.
Prayer:   Dear God, Help us to realize that when we visit those in prison we are visiting You. Amen.
Todd Shupe is a Men's Ministry Specialist through the General Commission of United Methodist Men and is in training to be a Certified Lay Minister through the Louisiana Conference of the United Methodist Church. He currently serves as the President of the Baton Rouge District of United Methodist Men and is a Board Member for Gulf South Men and serves on the Action Team for The Kingdom Group. He is a volunteer for the Walk to Emmaus, Grace Camp, and Iron Sharpens Iron. Todd resides in Baton Rouge, Louisiana.
We welcome your comments below.
Thank you for visiting. We trust that you have enjoyed reading our articles.
Read more below or search for more topics...
What Is Your Reflection? "He will sit as a refiner and purifier of silver; He will purify the Levites and refine them like gold and silver" (Malachi 3:3 NIV). I think most people probably use a mirror at least once a day, maybe even multiple times.  We look at ourselves to see our reflection.  We want to know what image we are reflecting out to others.  Then, we take action to improve our appearance.Scripture tells us that God's Word is like a mirror:  "Anyone who listens to the Word but does not do what it says is like someone who looks at...

The Walk to Emmaus: The Best Spiritual Weekend Retreat "When he was at the table with them, he took bread, gave thanks, broke it and began to give it to them. Then their eyes were opened and they recognized him, and he disappeared from their sight. They asked each other, "Were not our hearts burning within us while he talked with us on the road and opened the Scriptures to us?" (Luke 24:30-32 NIV).The Walk to Emmaus "Walk" is a three-day spiritual retreat that came out of the Roman Catholic Cursillo movement. The Walk to Emmaus is held numerous times during...

Thanksgiving Is Not Just For November "Whatever happens, give thanks, because it is God's will in Christ Jesus that you do this" (1 Thessalonians 5:18 GW).I love Thanksgiving!  It is a fun time of year to get together with family, eat some great home cooked meals, and watch football.  Thanksgiving is a time for us to reflect on the past year and identify things which we are thankful.  In some families, they go around the table and each person states one or two things for which they are thankful. God has blessed us with many emotions with which we can express ourselves. ...