"Four Ways To Turn Father's Day Into A Celebration Of The Selfless Service Men Do Daily"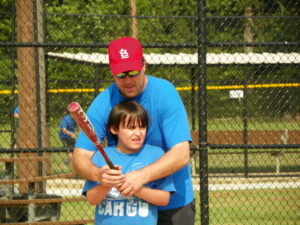 While we'd rather see more than one day per year dedicated to recognizing the fathers in all our lives, we'll take one and seize upon it for now.
With Father's Day just around the corner, now's the time to start planning the best ways to mark the occasion. From family outings to intimate sit-downs with like-minded family and friends, Father's Day is a chance to show respect, appreciation and utmost gratitude for the 
sacrifices our fathers have made throughout their lives and ours to better our quality of living. I am a firm believer in Father's Day (and Mother's Day).  That's because it can be used for purposes beyond a card in the mail or a nice dinner.  
With that in mind, here are four ways to spend the upcoming holiday thanks to suggestions from the Charlotte, North Carolina-based arm of Band of Brothers. For more information on that organization, click here. For ways to turn this upcoming Sunday into a celebration of men everywhere, keep reading.
– Angels in the Outfield: What says "spring has arrived" more than an afternoon at a baseball game? If sports aren't your thing but you still want to spend time outdoors with your family, try a nature walk, day at the beach or visit to an animal sanctuary.
– Leading by Example: Reach out to your congregation and see if they will allow you to use the church for an educational seminar on the modern role of a father. Invite the community at large and be surprised at how much new information and insight into other's lives that you'll walk away with.
– Sunday Service: When it comes time to attend church on Father's Day, those in the position to preach should take their role to heart and spread a message that will reach all men – not just fathers. Encourage a handful of men in the congregation to share stories of success through faith. You can also distribute a survey to men in attendance to get a better idea of issues they face today. That survey can then be used by your church's leadership team to shape fall programming in hopes of reaching more with resonating messages. Some churches have a Men's Sunday that occurs on or near Father's Day (and a women's day that occurs near Mother's Day).  The service is lead by the men of the church and they select a special guest speaker to bring a powerful message of God's love and grace.
– Rest and Relaxation: After church, head outdoors for a family picnic or to a site with recreational options for you and the family to consider. It's both a team-building exercise and quality time well spent with loved ones.
Todd Shupe is a Men's Ministry Specialist through the General Commission of United Methodist Men and is in training to be a Certified Lay Minister through the Louisiana Conference of the United Methodist Church. He currently serves as the President of the Baton Rouge District of United Methodist Men and is a Board Member for Gulf South Men and serves on the Action Team for The Kingdom Group. He is a volunteer for the Walk to Emmaus, Grace Camp, and Iron Sharpens Iron. Todd resides in Baton Rouge, Louisiana.
We welcome your comments below.
Thank you for visiting. We trust that you have enjoyed reading our articles.
Read more below or search for more topics...
Love Must Be Shown "Now someone may argue, 'Some people have faith; others have good deeds.' But I say, 'How can you show me your faith if you don't have good deeds? I will show you my faith by my good deeds'" (James 2:18 NLT).Some people think faith is a strong belief in something or someone.  Some may argue that it is a concept or a part of theology.  Faith is so much more than any of that.  The second chapter of James teaches us that real faith transforms lives.   2 Corinthians 5:7 is essential in this regard because it tells us, "For...

Self-Control Can Vanquish Weakness In Trying Times "A fool always loses his temper, But a wise man holds it back" (Proverbs 29:11 NASB).The Bible teaches us that self-control is essential to living a Christian life. We must exercise our self-control or we become controlled by our weakness. Whether it is food, alcohol, drugs or pornography, the enemy knows our weakness better than we do and will encourage us to go to it rather than to God in times of need. Our lives can soon be dominated by our weakness and we are living completely in the flesh rather than in the...

Give to Receive? "You will be enriched in every way so that you can be generous on every occasion, and through us your generosity will result in thanksgiving to God" (2 Corinthians 9:11 NIV). Most Christians understand the need for giving.  For early Jews and Christians, almsgiving was the act of filling a material need for someone less fortunate, usually by giving money. God incorporated the concept of alms into the Mosaic Law when He ordered land-owners to leave to the poor the corners of the fields (Leviticus 19:9-10), and every seventh year, leave the entire field (Exodus 23:10-11). In churches today, "alms"...