Evangelism Begins With Discernment
"So, if you think you are standing firm, be careful that you don't fall!  No temptation has overtaken you except what is common to mankind. And God is faithful; He will not let you be tempted beyond what you can bear. But when you are tempted, He will also provide a way out so that you can endure it" (1 Corinthians 10:12-13).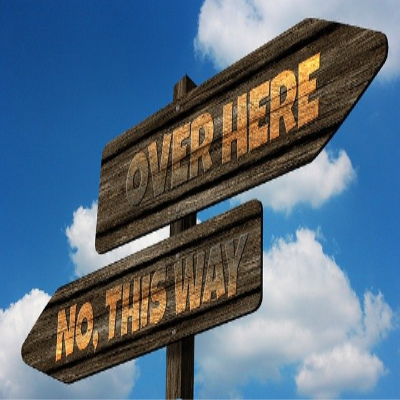 I recently ate lunch with friends at a local cafeteria.  As I walked with my tray to the cash register, I passed the desserts.  They looked really good, and I was very tempted to get one but did not.   In the overall scheme of things, this was a pretty mild form of temptation.
Temptation comes at us each day in a variety of forms.  It has been around since the very beginning when the serpent tempted Adam and Eve in the Garden of Eden.  Adam and Eve disobeyed God and gave in to the desires of the flesh and ate the fruit of the tree of knowledge of good and evil.
The enemy later tempted Jesus immediately following His baptism.  You may recall that Jesus used Scripture to "rebuke" (2 Timothy 3:16) satan as Jesus was tested and tempted by satan
(Matthew 4:1-11).  Jesus modelled for us the power of Scripture.  Also, Joseph was tempted by Potiphar's wife to sleep with her.  Joseph modelled for us that we should remove ourselves from temptation.  As Potiphar's wife grabbed Joseph's cloak, he ran out of the house (Genesis 39:12).
The enemy knows that we each have a weakness and will use these as temptations to move us away from God and toward sin.  Temptation should be dealt with consistently, ruthlessly, and immediately because sin is "crouching at the door" (Genesis 4:7).
It is important that we realize the pathway and source of temptation.  James 1:13-15 teaches,  "When tempted, no one should say, "God is tempting me." For God cannot be tempted by evil, nor does He tempt anyone; but each person is tempted when they are dragged away by their own evil desire and enticed.  Then, after desire has conceived, it gives birth to sin; and sin, when it is full-grown, gives birth to death."  Adam and Eve did not die in their physical bodies, but their sin separated them from God.  A life separated from God is no life at all.   
Yes, "the wages of sin are death" (Romans 6:23).  However, we have eternal life through the blood of Jesus because the complete verse of Romans 6:23 is: "For the wages of sin is death, but the gift of God is eternal life in Christ Jesus our Lord."  "As the Scripture says, "The person who is put right with God through faith shall live" (Romans 1:17).
Temptation is clearly not from God, but we can use temptation to deepen our relationship with God.  John Quincy Adams, our sixth President, said, "Every temptation is an opportunity of our getting nearer to God."  God will provide a way out from temptation, and He is "the way and the truth and the life"  (John 14:6).
Prayer:  Dear God:  Please protect us as we face temptations that would serve to draw us away from you.  Grant us a keen sense of discernment as we seek comfort from you and not from this world.  Amen. 
Todd Shupe is a Men's Ministry Specialist through the General Commission of United Methodist Men and is in training to be a Certified Lay Minister through the Louisiana Conference of the United Methodist Church. He currently serves as the President of the Baton Rouge District of United Methodist Men and is a Board Member for Gulf South Men and serves on the Action Team for The Kingdom Group. He is a volunteer for the Walk to Emmaus, Grace Camp, and Iron Sharpens Iron. Todd resides in Baton Rouge, Louisiana.
We welcome your comments below.
Thank you for visiting. We trust that you have enjoyed reading our articles.
Read more below or search for more topics...
I Can't Get No Satisfaction "He has set the right time for everything. He has given us a desire to know the future, but never gives us the satisfaction of fully understanding what He does"  (Ecclesiastes 3:11 NIV). "(I Can't Get No) Satisfaction" was a song by the English rock band The Rolling Stones, released in 1965. The lyrics refer to secular frustration and commercialism, not Christianity.  However, there is a message in the song that has been true since the book of Ecclesiastes was written by King Solomon around 935 BC.  In many instances, we cannot get satisfaction, at least not...

Dealing With Your Own Judas "but Jesus asked him, 'Judas, are you betraying the Son of Man with a kiss?'" (Luke 22:48 NIV).Perhaps one of the most memorable stories of the New Testament is the betrayal of Jesus by Judas Iscariot.  Jesus was also denied three times by Peter.  In fact, all the disciples fled for their own safety after Christ was arrested.    We know as humans that others will disappoint us and we will surely disappoint them.  We also know that as Christian we are called to forgiveness.  However, betrayal takes on a whole new meaning when the person that...

The Biblical Roots Of Trust Trust is an essential component to any relationship. Trust is essential for a relationship to move past a superficial level to a more intimate and personal basis. Our relationship with God is based on our trust that first, He lived and died for our sins and second, He has our best interests at heart and loves us unconditionally.The actual phrase "Jesus loves me," cannot be found in the Bible but there are examples that support this fact. In John 13:34 Jesus said, "As I have loved you, you must love one another" and in John 15:9 He said, "As the Father has...