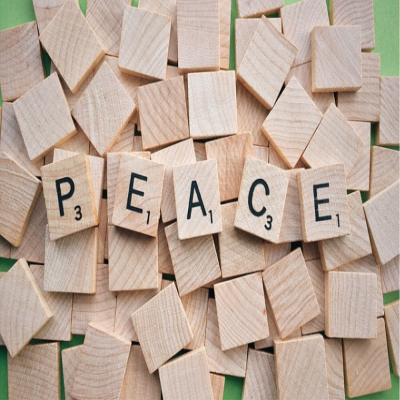 "But if we hope for what we do not yet have, we wait for it patiently" (Romans 8:25 NIV).
One of my greatest desires is peace.  However, it also can be one of the most elusive.  I "postpone" peace until some task is completed.  The problem is that some tasks can often go on for years, if not for a lifetime.  As I hurriedly try to check items off my "to do" list, more items are added. 
A friend recently told me that I should focus on discerning what it is that God wants me to learn, see, or do while waiting for Him to act rather than trying to prayerfully "nudge" Him to move faster.  This was God-breathed advice because he was providing me a roadmap to both honor God and find peace.  I later read my favorite chapter of the Bible, Romans 8, and was particularly struck by the 25th verse.  "But if we hope for what we do not yet have, we wait for it patiently" (Romans 8:25).
I shared a recent devotional on patience with a close friend and asked for his comments.  I shared with Him how I was seeking peace but lacking in patience.  He told me that we cannot dwell in peace without some semblance of patience.  Perhaps when I am waiting on God, He is waiting on me.  Isaiah 30:18 tells us "Therefore the Lord waits to be gracious to you, and therefore He exalts Himself to show mercy to you. For the Lord is a God of justice; blessed are all those who wait for Him."   I don't think any of us want to get into a "waiting game" with God.  Time is meaningless to God as indicated in 2 Peter 3:8-9.  So even though we may be impatient with Him, He remains patient with us. 
James 5:7 encourages us to be patient and know that there will be a great harvest.  "Be patient, therefore, brothers, until the coming of the Lord. See how the farmer waits for the precious fruit of the earth, being patient about it, until it receives the early and the late rains."
A lack of patience is a mental, physical, and spiritual drain.   This is a fruit of the enemy.  This is not what Jesus intended based on John 10:10. "The thief comes only to steal and kill and destroy. I came that they may have life and have it abundantly."  An abundant life is one in which we wait upon the Lord and renew our strength.  We mount up with wings as eagles and run and will not be weary.  We walk and will not faint  (Isaiah 40:31).
Prayer:  Dear God we confess that all too often we seek to do things our way and do not prayerfully consider your will for us.  Help us to seek your will in all that we do and to have the courage, confidence, and strength to knowingly wait for you to act at the perfect time and in the perfect manner.  We love you, need you, and trust in you.  In Jesus name we pray.  Amen.
Todd Shupe is a Men's Ministry Specialist through the General Commission of United Methodist Men and is in training to be a Certified Lay Minister through the Louisiana Conference of the United Methodist Church. He currently serves as the President of the Baton Rouge District of United Methodist Men and is a Board Member for Gulf South Men and serves on the Action Team for The Kingdom Group. He is a volunteer for the Walk to Emmaus, Grace Camp, and Iron Sharpens Iron. Todd resides in Baton Rouge, Louisiana.
We welcome your comments below.
Thank you for visiting. We trust that you have enjoyed reading our articles.
Read more below or search for more topics...
The Heart of a Child is the Key to Heaven "And they were bringing children to him that he might touch them, and the disciples rebuked them. But when Jesus saw it, he was indignant and said to them, "Let the children come to me; do not hinder them, for to such belongs the kingdom of God. Truly, I say to you, whoever does not receive the kingdom of God like a child shall not enter it." And he took them in his arms and blessed them, laying his hands on them" (Mark 10:13-16 ESV).There is no greater gift from God...

Five Steps for Handling Frustration "You will keep in perfect peace those whose minds are steadfast, because they trust in you" (Isaiah 26:3 NIV). We all have experienced frustration.   Sometimes we are frustrated with ourselves and sometimes with others, including God.  Our frustrations present an opportunity to either deepen our relationships with others or divide us.  Regardless of the nature of our frustration, our response will determine if good fruit comes from the situation. Here are five simple steps for dealing with frustrations. Did I cause it?  The Bible says, "A man reaps what he sows" (Galatians 6:7). We are often frustrated by things in life...

Book Review: Forgiveness, the Passionate Journey Nine Steps of Forgiving through Jesus' Beatitudes by Flora Slosson Wuellner "I have told you this so that my joy may be in you and that your joy may be complete"  (John 15:11 NIV).I think most Christians understand that that through the blood of Jesus we have forgiveness for our sins and life everlasting with the Father.  However, many of us still struggle with the concept of forgiveness.  This book uses the Beatitudes, eight blessings recounted by Jesus in the Sermon on the Mount in the Gospel of Matthew, to point the reader toward...