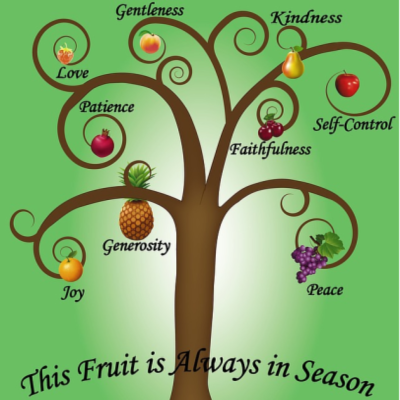 Finding the Fruits of the Spirit
"If we live in the Spirit, let us also walk in the Spirit.  Let us not be desirous of vain glory, provoking one another, envying one another" (Galatians 5:25-276 KJV).
I love to watch St. Louis Cardinals baseball games on television.  I played little league baseball but knew at a very young age that I would never play professional baseball at any level.  I simply did not have the talent.  It was not "in" me.  I had the gift of a strong arm.  However, it was not the strongest by far and when combined with an average glove, below average speed, and a weak bat, the pro scouts surprisingly did not come to my games. 
Many of us are familiar with the Scripture from Galatians 5:22-23 that describes the fruits of the Spirit.  "But the fruit of the Spirit is love, joy, peace, forbearance, kindness, goodness, faithfulness, 23 gentleness and self-control. Against such things there is no law." (Galatians 5:22-26 NIV).  This Scripture was important because Paul wrote to the churches in southern Galatia after having a hand in starting them on his first missionary journey to Asia Minor.  Paul's letter was targeting the first real controversy that plagued the church in its early years—the relationship between Christian Jews and Christian Gentiles. Paul's wanted the people to embrace unity in Christ, no matter their racial distinctions.  The fruits of the Spirit will always be essential for unity and peaceful living.
The fruits of the Spirit are "in" all of us.  Yes, some of them may be more developed than others.  However, all fruits are the product of growth.  We cultivate our fruit trees in order to maximize the yield of fruit.  Similarly, we should cultivate our spiritual lives to increase our fruit of the Spirit.  We are custodians of our Spiritual fruit, and the best thing we can do with it is to use it to build up the body of Christ.  We can't give what we don't have, but we can help all of our Spiritual fruits advance to the next stage of maturity.  Below are some tips on how to do this.
Love — We can sift every thought, word, and action through the filter of "Is it loving?"
Joy — We can be the source of smiles, laughter, and appreciation.
Peace — We can fill the atmosphere with our own sense of peace, a calm amid the chaos, so
Self-control — We can commit ourselves to no outbursts, no irritating reports.
Kindness — We can shower others with affirmation, encouraging the flickering candle of their best selves to burn more brightly.
Goodness — We can focus on the positives, rather than the faults, of those around us.
Faithfulness — We can be true to the blessed values of the Christmas season.
Gentleness — We can give our full attention to each person, one at a time, not omitting even the most troublesome
Prayer:  Dear God:  Please help us to cultivate and use our fruits of the Spirit so that wherever we go others will be attracted to our light and come to understand that our light is yours.  All glory and honor is yours.  Amen.
Todd Shupe is a Men's Ministry Specialist through the General Commission of United Methodist Men and is in training to be a Certified Lay Minister through the Louisiana Conference of the United Methodist Church. He currently serves as the President of the Baton Rouge District of United Methodist Men and is a Board Member for Gulf South Men and serves on the Action Team for The Kingdom Group. He is a volunteer for the Walk to Emmaus, Grace Camp, and Iron Sharpens Iron. Todd resides in Baton Rouge, Louisiana.
We welcome your comments below.
Thank you for visiting. We trust that you have enjoyed reading our articles.
Read more below or search for more topics...
How Can We Lead During A Pandemic? "Do not put your trust in princes, in human beings, who cannot save" (Psalm 146 NIV).I enjoy participating in several men's groups throughout the week.  Before COVID-19 these groups would meet in person at a local church, restaurant, or somebody's house and we would read and discuss Scripture or a devotional, share our concerns and prayer requests, and enjoy fellowship with each other. These meetings are now on Zoom.  Although I prefer in person meetings, I am grateful for these opportunities on Zoom to spend time with my friends.  One recurrent issue that I have encountered when...

Keep Your Eye On The Prize "I have fought the good fight, I have finished the race, I have kept the faith."  (2 Timothy 4:7 NIV) We all have so many distractions that it is very hard to stay focused.  We all want to obey the first commandment and put God first in our lives, but we are pulled in so many directions from family, work, and friends.  I love the expression "keep your eye on the prize."  It is often associated with athletes that are focused on performing at the highest possible level.   The Bible speaks to this in 1 Cor. 9:25 "All...

Book Review: God Knows Your Story (And He's Not Mad!) by Carter Featherston "For your goodness and love pursue me all the days of my life" (Psalm 23:6 TPT).If you have never done anything wrong and do not have any regrets or shame, then this book is not for you.  However, I strongly suspect that all of us have regrets and feel some sense of shame for poor choices.  This is a Biblically based book that points the reader to the only true source of victory of sin and shame, Jesus. This book is valuable because it addresses a topic that all...