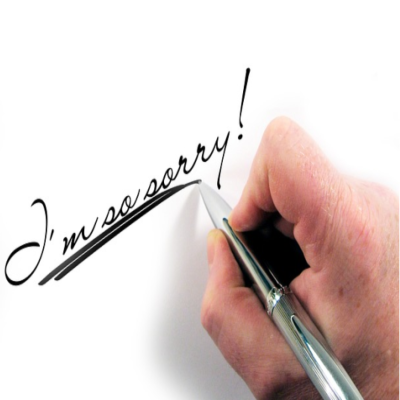 "Then Peter came to Jesus and asked, "Lord, how many times shall I forgive my brother or sister who sins against me? Up to seven times?" Jesus answered, "I tell you, not seven times, but seventy-seven times" (Matthew 18:22 NIV).
It is inevitable that we will accidentally hurt someone's feelings, often of those who are closest to us, and need to ask for their forgiveness. Sometimes they are forgiven and, unfortunately, sometimes not. But what happens when the person who hurt us does not seek our forgiveness? In either case, we have a decision to make: Do we or do we not forgive that person?
Below are five thoughts on forgiveness.
1) Forgiveness is good for you: Holding on to anger or resentment is a tool of the enemy.  It is life-taking and not life-giving.  When you forgive someone, even if they don't know you have forgiven them, will free you from the chains of darkness and improve not only your spiritual health, but your physical and mental health, too.
2) Remove the log from your own eye: In Matthew 7, we are warned to remove the log from our own eye before we criticize someone else. Earlier in the chapter, we are warned about judging others. I think the word "forgiveness" can be substituted for "judge." "For in the same way you judge others, you will be judged, and with the measure you use, it will be measured to you."
3) Forgive and be forgiven: Matthew 6:15 is a classic scripture for forgiveness. "But if you do not forgive others their sins, your Father will not forgive your sins." We must forgive others in order to receive forgiveness for our sins.
4) Jesus offers forgiveness on the cross: During his death on the cross, Jesus asked God to forgive those responsible. This is the ultimate act of forgiveness. Jesus said, "Father, forgive them, for they do not know what they are doing."
5) The Lord's Prayer: Jesus tells us in the Lord's prayer, as found in Matthew 6:9-13, that we are to ask and give forgiveness. "This, then, is how you should pray: Our Father in heaven, hallowed be your name, your kingdom come, your will be done, on Earth as it is in heaven. Give us today our daily bread. And forgive us our debts, as we also have forgiven our debtors. And lead us not into temptation, but deliver us from the evil one." Clearly Jesus is telling us the importance of giving and receiving forgiveness.  A fundamental component of our Christian walk with Christ.
In summary, forgiveness is not easy. Sometimes, we have been hurt badly and really don't want to offer forgiveness. However, it is essential for forgiveness to be given, regardless if the offender knows or not, in order for your healing process to begin. If we are seek God's forgiveness of our sins, then we must forgive others when they sin against us. You will feel better and be blessed by doing so! If you are holding onto anger toward somebody,  prayerfully forgive them now and free yourself.
Prayer:  Dear God, May we always remember to forgive others who sin against us just as You have forgiven our sins against You.  Amen.
Todd Shupe is a Men's Ministry Specialist through the General Commission of United Methodist Men and is in training to be a Certified Lay Minister through the Louisiana Conference of the United Methodist Church. He currently serves as the President of the Baton Rouge District of United Methodist Men and is a Board Member for Gulf South Men and serves on the Action Team for The Kingdom Group. He is a volunteer for the Walk to Emmaus, Grace Camp, and Iron Sharpens Iron. Todd resides in Baton Rouge, Louisiana.
We welcome your comments below.
Thank you for visiting. We trust that you have enjoyed reading our articles.
Read more below or search for more topics...
How to be a AAA-Rated Father "Children are a gift from the Lord; they are a reward from Him.  Children born to a young man are like arrows in a warrior's hands.   How joyful is the man whose quiver is full of them!  He will not be put to shame when he confronts his accusers at the city gates )(Psalm 127:3-5 NLT). Each year parents with good intentions will search for books to improve their parenting skills.  As parents we love our children and want them to have a good life and be happy.  We purchase material things to make them happy.  We take them on...

Who Is In Your Foxhole? "One who has unreliable friends soon comes to ruin, but there is a friend who sticks closer than a brother" (Proverbs 18:24 NIV). A few years ago I had the pleasure of meeting Coach Jeff Kisiah "Coach K" at an Iron Sharpens Iron men's equipping conference.  He spoke about the importance of foxhole friends and the strength of a threefold cord (Ecclesiastes 4:12).  This man of God recently went on to Glory, but he left behind a legacy.  The basis for the annual, national conference is Proverbs 27:17, "As iron sharpens iron, so does one man sharpen another." Men...

What is in Your Heart – Envy or Contentment? "Therefore, since we are surrounded by such a great cloud of witnesses, let us throw off everything that hinders and the sin that so easily entangles. And let us run with perseverance the race marked out for us" (Hebrews 12:1 NIV). Hebrews 12:1 teaches us that God has prepared a "race" for each of us.  To me, this means we each have our own unique life.  We don't all have the same race, experiences, joys, and failures but we each have a unique race.  God has a plan that He wants us to pursue that...