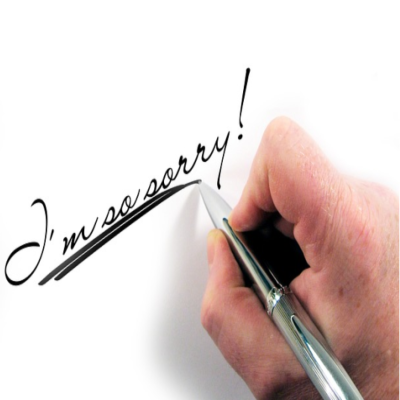 "Then Peter came to Jesus and asked, "Lord, how many times shall I forgive my brother or sister who sins against me? Up to seven times?" Jesus answered, "I tell you, not seven times, but seventy-seven times" (Matthew 18:22 NIV).
It is inevitable that we will accidentally hurt someone's feelings, often of those who are closest to us, and need to ask for their forgiveness. Sometimes they are forgiven and, unfortunately, sometimes not. But what happens when the person who hurt us does not seek our forgiveness? In either case, we have a decision to make: Do we or do we not forgive that person?
Below are five thoughts on forgiveness.
1) Forgiveness is good for you: Holding on to anger or resentment is a tool of the enemy.  It is life-taking and not life-giving.  When you forgive someone, even if they don't know you have forgiven them, will free you from the chains of darkness and improve not only your spiritual health, but your physical and mental health, too.
2) Remove the log from your own eye: In Matthew 7, we are warned to remove the log from our own eye before we criticize someone else. Earlier in the chapter, we are warned about judging others. I think the word "forgiveness" can be substituted for "judge." "For in the same way you judge others, you will be judged, and with the measure you use, it will be measured to you."
3) Forgive and be forgiven: Matthew 6:15 is a classic scripture for forgiveness. "But if you do not forgive others their sins, your Father will not forgive your sins." We must forgive others in order to receive forgiveness for our sins.
4) Jesus offers forgiveness on the cross: During his death on the cross, Jesus asked God to forgive those responsible. This is the ultimate act of forgiveness. Jesus said, "Father, forgive them, for they do not know what they are doing."
5) The Lord's Prayer: Jesus tells us in the Lord's prayer, as found in Matthew 6:9-13, that we are to ask and give forgiveness. "This, then, is how you should pray: Our Father in heaven, hallowed be your name, your kingdom come, your will be done, on Earth as it is in heaven. Give us today our daily bread. And forgive us our debts, as we also have forgiven our debtors. And lead us not into temptation, but deliver us from the evil one." Clearly Jesus is telling us the importance of giving and receiving forgiveness.  A fundamental component of our Christian walk with Christ.
In summary, forgiveness is not easy. Sometimes, we have been hurt badly and really don't want to offer forgiveness. However, it is essential for forgiveness to be given, regardless if the offender knows or not, in order for your healing process to begin. If we are seek God's forgiveness of our sins, then we must forgive others when they sin against us. You will feel better and be blessed by doing so! If you are holding onto anger toward somebody,  prayerfully forgive them now and free yourself.
Prayer:  Dear God, May we always remember to forgive others who sin against us just as You have forgiven our sins against You.  Amen.
Todd Shupe is a Men's Ministry Specialist through the General Commission of United Methodist Men and is in training to be a Certified Lay Minister through the Louisiana Conference of the United Methodist Church. He currently serves as the President of the Baton Rouge District of United Methodist Men and is a Board Member for Gulf South Men and serves on the Action Team for The Kingdom Group. He is a volunteer for the Walk to Emmaus, Grace Camp, and Iron Sharpens Iron. Todd resides in Baton Rouge, Louisiana.
We welcome your comments below.
Thank you for visiting. We trust that you have enjoyed reading our articles.
Read more below or search for more topics...
Opportunities Abound For Those Seeking Volunteer Roles With Christian Organizations "The greatest among you will be your servant" (Matthew 23:11 NIV) Volunteer work should be seen as a hallmark of every good Christian's character. Those who want to live a life in God's good graces should feel compelled to help out their brothers and sisters around them. The next question then is how to get involved with a volunteer effort, as it's often one of the only ways to accomplish the goodwill work that needs to be addressed in this world. Fortunately, there is no shortage of organizations that need volunteers. I would...

Lessons from the Lepers "Jesus asked, "Were not all ten cleansed? Where are the other nine?"  (Luke 17:17 NIV) The Word teaches us in Luke 17 that Jesus healed ten men with leprosy. Lepers were social outcasts in Bible times and were forbidden from intermingling with others in society (Leviticus 13).   These ten men were living a life of extreme agony.  Leprosy attacks the body, leaving sores, missing fingers, missing toes, and damaged limbs. In many cases, the initial pain of leprosy gives way to something more terrible than that - a loss of sensation in nerve endings, leading to more damage...

The Biblical Path To Peace "Do not be anxious about anything, but in every situation, by prayer and petition, with thanksgiving, present your requests to God. And the peace of God, which transcends all understanding, will guard your hearts and your minds in Christ Jesus.  Finally, brothers and sisters, whatever is true, whatever is noble, whatever is right, whatever is pure, whatever is lovely, whatever is admirable—if anything is excellent or praiseworthy—think about such things. Whatever you have learned or received or heard from me, or seen in me—put it into practice. And the God of peace will be with you" (Philippians 4:6-9 NIV).Americans are more stressed...