From Flooded Out To Flooded With Faith: A First-Hand Recollection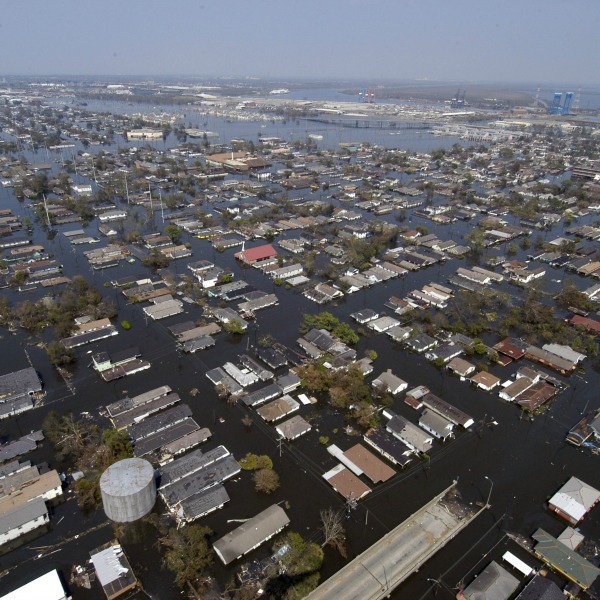 In this blog I would like to explore the effects that the 2016 flooding in Baton Rouge had on my home and why it only strengthened his faith in the end. As I type this on August 13, 2017, I reflect on the one year anniversary of the "great" flood of 2016 that damaged so many homes in the Baton Rouge, Louisiana area – mine included. In my humble opinion there was nothing "great" about the flood; it was a terrible event for all and resulted in hardship for many.
The "great" part occurred a few days later when dozens of people from my church came to my house to assist with the gutting — removal of the sheetrock up to four feet from the floor — and mucking — removal of all flooded furniture and clothing from the house. In the middle of the day, there was a mountain of debris in front of my house. Family antiques and heirlooms, treasured books 
beds, toys and so much more were in a mountain in front of our house.  The mountain grew to include everything that was blocking access to the studs.
So, the kitchen cabinets, custom-made wood shelving and bathtub and shower were added to the heap. In the middle of building the debris mountain, I had a short but memorable talk with a long-time dear friend of mine who is more like an older brother.  His name is David, just like my own brother. They are similar in many ways. My friend David was standing next to me by the debris pile. He noticed my sadness and he said to me, "The Lord says, 'Forget the former things; do not dwell on the past. See, I am doing a new thing! Now it springs up; … I am making a way in the wilderness and streams in the wasteland.'" 
He quoted Isaiah 43:18-19 to me. This is a favorite scripture of mine but, like all scripture, it can have a totally different meaning to you depending on your current situation. I felt at peace and a calm came over me as he said those words and hugged me. I think back on that day and I realize without a doubt that David was not talking to me. David was merely a vessel for Christ to talk to me and deliver the words that I needed to hear at that time to provide me a peace that surpasses all understanding. David was helping me to understand that this day was not the end — but rather the beginning of a new life.
As a child of God, I can stand steadfast that the new life will be good. The scripture above was intended for the Jews, who had provoked God to send them into captivity so that they might repent and seek God. The flood was not a result of God being provoked; rather it was a chance for him to grant a fresh start to many of us. God often does His best work when we are weakest.
If you are nearing the end of a marriage, job or other major life events, I encourage you to focus on the beginning of a new life and not the loss of the old. Focus on Jeremiah 29:11, " For surely I know the plans I have for you, says the Lord, plans for your welfare and not for harm, to give you a future with hope."
Todd Shupe is a Men's Ministry Specialist through the General Commission of United Methodist Men and is in training to be a Certified Lay Minister through the Louisiana Conference of the United Methodist Church. He currently serves as the President of the Baton Rouge District of United Methodist Men and is a Board Member for Gulf South Men and serves on the Action Team for The Kingdom Group. He is a volunteer for the Walk to Emmaus, Grace Camp, and Iron Sharpens Iron. Todd resides in Baton Rouge, Louisiana.
We welcome your comments below.
Thank you for visiting. We trust that you have enjoyed reading our articles.
Read more below or search for more topics...
Purpose And Proper Daily Use Of Prayer Perhaps one of the most intimate means available for us to communicate with God is through prayer. According to a recent Pew Research Center study, 55 percent of all Americans report that they pray each day. The same study also states that, at a rate of 14 percent, more American women pray daily compared to men. According to Todd Shupe however, a 55 percent would be a failing exam grade for us overall. That's an F, folks. "I think many of us have a false perception of God.  We see God as Santa Claus and approach...

Men, What Do You Crave? "Like newborn babies, crave pure spiritual milk, so that by it you may grow up in your salvation" (1 Peter 2:2 NIV). We all have cravings.  A craving is a deep desire that implies something stronger than a mere want or desire.  Life is full of temptations and urgent problems which all serve as distractions from our spiritual cravings.  So, how can we be expected to sustain a spiritual appetite?  Below are five steps to consider. 1. Remember God loves you always Nothing can separate us from the love of God (Romans 8:38-39).  His grace is infinitely stronger than our sin.  A...

Understanding Our Emotions 16 "But I say, walk by the Spirit, and you will not gratify the desires of the flesh. 17 For the desires of the flesh are against the Spirit, and the desires of the Spirit are against the flesh, for these are opposed to each other, to keep you from doing the things you want to do. 18 But if you are led by the Spirit, you are not under the law. 19 Now the works of the flesh are evident: sexual immorality, impurity, sensuality, 20 idolatry, sorcery, enmity, strife, jealousy, fits of anger, rivalries, dissensions, divisions, 21 envy, drunkenness, orgies, and things like these. I warn you, as I warned you before, that those who do...