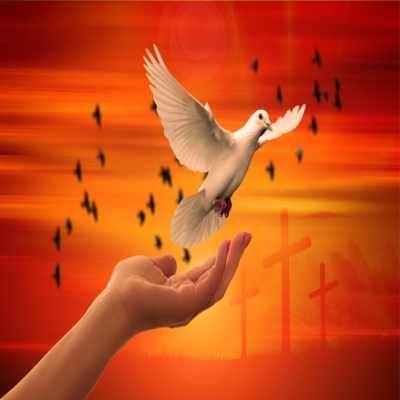 If You Want God's Mercy, Then Give Mercy to God's Children
"God blesses those who are merciful, for they will be shown mercy" (Matthew 5:7 NLT).
We all sin and want mercy.  God is quick to forgive and offer mercy when we approach Him with an earnest desire to repent from our sin.  Why is it then that as children of God we are so reluctant to offer mercy to our brothers and sisters in Christ?  Yes, forgiveness is not easy, but nobody ever promised us that a life with God would be easy.  Jesus says in Matthew 5:7, "God blesses those who are merciful, for they will be shown mercy" (NLT).  In short, what you give, you're going to get. You've got to learn to give mercy if you want God's mercy for your sins.  We all want mercy for our sins and transgressions. 
But why does God want you to show mercy to others? Why is being merciful so important?  We love the mercy we get from God, but we often feel that we are entitled to withhold mercy from others.  So why should we show mercy to others?
God Has Shown Mercy To Us
Our blessings from God are not meant to be hoarded.  God wants us to pass on the mercy that you've received from Him.  Ephesians 2:4-5 reads, "God's mercy is so abundant, and his love for us is so great, that while we were spiritually dead in our disobedience, He brought us to life with Christ. It is by God's grace that you have been saved" (GNT).
God Commands Mercy
God has clearly told us what is required of us. "The Lord has told you what is good. This is what the Lord requires from you: to do what is right, to love mercy, and to live humbly with your God" (Micah 6:8 GW).
We All Have A Constant Need For Mercy
We will all make more mistakes and sins between today and the day of our death.  So, we will all need God's mercy in the future as much as in the past.  God will not give to us what we will not give to others.  James 2:13 teaches, "You must show mercy to others, or God will not show mercy to you when he judges you. But the person who shows mercy can stand without fear at the judgment" (NCV).
Showing Mercy Brings Joy
We reach in Matthew 5:7 that God blesses those who are merciful.  "Blessed are the merciful, for they will be shown mercy" (NIV).  The word "blessed" also means "happy," so the more you practice giving mercy, the happier and more blessed you're going to be.
Prayer:  Dear God:  Thank you for the mercy and forgiveness that you have given to us all.  Please help us to offer mercy to others in the same way that you offer it to us.  Amen.
Todd Shupe is a Men's Ministry Specialist through the General Commission of United Methodist Men and is in training to be a Certified Lay Minister through the Louisiana Conference of the United Methodist Church. He currently serves as the President of the Baton Rouge District of United Methodist Men and is a Board Member for Gulf South Men and serves on the Action Team for The Kingdom Group. He is a volunteer for the Walk to Emmaus, Grace Camp, and Iron Sharpens Iron. Todd resides in Baton Rouge, Louisiana.
We welcome your comments below.
Thank you for visiting. We trust that you have enjoyed reading our articles.
Read more below or search for more topics...
Showing Humility Is Showing Jesus "Do nothing out of selfish ambition or vain conceit.  Rather; in humility value others above yourselves, not looking to your own interests but each of you to the interests of the others" (Philippians 2:3-4 NIV).Jesus walked the earth and engaged in meaningful and transformational relationships with people.  Today, we are called to be in relationship with Him and with others.  But how can we be the Face of God to others in our relationships?  Some may dismiss this notion out of hand because we are not Jesus.  How can we be expected to show His face?The simple...

Grace Upon Grace: An Exploration Of God's Love And How To Receive It "For sin will have no dominion over you, since you are not under law but under grace" (Romans 6:14 ESV). We are created with a deep need to be loved.  There are two radically different kinds of love: conditional and unconditional. Conditional love involves bargaining and there are conditions that we must meet in order to receive love from others. Such conditional living is exhausting, involving a treadmill of constant doing in order to earn and maintain love. Unconditional love is radically different, involving a conversion of our motives. The Christian...

Use Your Words to Build Up the Body of Christ "Death and life are in the power of the tongue: and they that love it shall eat the fruit thereof" (Proverbs 18:21 KJV).We all say things that we regret and wish we could take back. Our words will invariably hurt somebody's feelings and cause pain. Proverbs 18:21 tells us, "Death and life are in the power of the tongue; And they that love it shall eat the fruit thereof."  The tongue is a symbol of life or death "Our words can be used to share the Good News with others or tear...