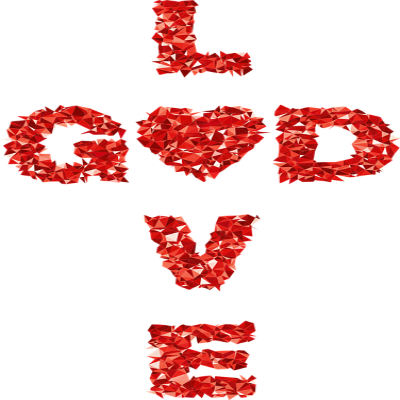 "If you love me, keep my commands" (John 14:15 NIV).
If you were to list ten words to describe yourself, do you think "obedient" would be one of the words?  You probably hope that when others describe you that they see some evidence of the Fruits of the Spirit: love, joy, peace, forbearance, kindness, goodness, faithfulness, gentleness, and self-control (Galatians 5:22-23).
"Obedient" is not a fruit of the Spirit but is the conscious use of our God-given free will.  God has given us free will to either obey His commands or not. Since the beginning of time in the Garden of Eden we have failed to be obedient.  The Prayer of Confession prior to Holy Communion at some churches includes, "We have failed to be an obedient church."  The prayer also includes "Free us for joyful obedience."  We need to acknowledge our failure to obey (our sin) and seek joyful obedience (a Christ-centered life).
The Bible contains 5467 promises to us.  The promises of God reveal His divine purpose to which He is committed and upon which we can depend. These promises are, however, conditional upon obedience on the part of believers.  With every promise, there is a premise, conditions, and requirements.
As a child, you probably obeyed your parents out of fear and obligation rather than joy.  You may not have seen the benefits of obedience but only the consequences of failure to obey.  The benefits of obeying God are His provision and protection.
Isaiah 5:21 warns us, "Woe to those who are wise in their own eyes and clever in their own sight."    The Prophet can see the future ruin of God's people because they have turned away from God.  Proverbs 3 is an excellent part of the Bible for understanding the benefits of a life in Christ.  For example, Proverbs 3:7 reads, "Do not be wise in your own eyes."  One of the better known Proverbs is, "Trust in the Lord with all your heart and lean not on your own understanding; in all your ways submit to him, and He will make your paths straight (Proverbs 3:5-6).
The Apostle Paul wrote in Philippians 4:19, "And my God will meet all your needs according to the riches of his glory in Christ Jesus."  This is the provision of God.  The Psalmist  teaches of the protection of God.  "Even though I walk through the darkest valley, I will fear no evil, for you are with me; your rod and your staff, they comfort me" (Psalm 23:4).
We are freed for joyful obedience as the Holy Spirit works within us and our will is the same as His will.  As we obey God, we receive His blessings of provision and protection.  We most certainly will still have adversity, but we can be comforted that the battle is not ours, but God's (2 Chronicles 2:15).   What a friend we have in Jesus!
Prayer:  Dear God, Forgive us dear Lord for not being an obedient church.  Pardon us for our sins and transgressions against you.  Renew in us a pure heart that seeks to obey and please you. 
Todd Shupe is a Men's Ministry Specialist through the General Commission of United Methodist Men and is in training to be a Certified Lay Minister through the Louisiana Conference of the United Methodist Church. He currently serves as the President of the Baton Rouge District of United Methodist Men and is a Board Member for Gulf South Men and serves on the Action Team for The Kingdom Group. He is a volunteer for the Walk to Emmaus, Grace Camp, and Iron Sharpens Iron. Todd resides in Baton Rouge, Louisiana.
We welcome your comments below.
Thank you for visiting. We trust that you have enjoyed reading our articles.
Read more below or search for more topics...
Know Your Enemy "For our struggle is not against flesh and blood, but against the rulers, against the authorities, against the powers of this dark world and against the spiritual forces of evil in the heavenly realms  (Ephesians 6:12 NIV). Coaches of all sports will study game film of their upcoming opponent. Their goal is to understand their opponent and the better you understand them, the better you make the necessary adjustments and preparation to defeat your opponent. It's much the same in the game of life.  We often mistakenly label our neighbor as our enemy when they are not our enemy...

Evangelism Begins With Discernment "So, if you think you are standing firm, be careful that you don't fall!  No temptation has overtaken you except what is common to mankind. And God is faithful; He will not let you be tempted beyond what you can bear. But when you are tempted, He will also provide a way out so that you can endure it" (1 Corinthians 10:12-13). I recently ate lunch with friends at a local cafeteria.  As I walked with my tray to the cash register, I passed the desserts.  They looked really good, and I was very tempted to get one but did not.   In the...

What Are Your Priorities? Perhaps our greatest power is to establish our priorities.  These are the things that motivate us.  Priorities are based on values, beliefs, ideals, and commitment.  They define each of us as a person.  Some are motivated by fame or money.  Others are motivated by their friends or family.  In short, there can be hundreds of reasons that motivate us each day.  It is critically important to recognize that we alone have the power to set our priorities and if we do not set them, then society will set them for us.   Popular culture will set our priorities...