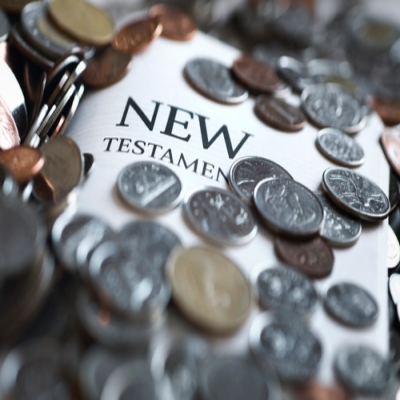 "Bring the whole tithe into the storehouse, that there may be food in my house. Test me in this," says the LORD Almighty, "and see if I will not throw open the floodgates of heaven and pour out so much blessing that there will not be room enough to store it" (Malachi 3:10 NIV).
Stewardship at most churches is an awkward topic because most of us look at it as a means to give up "our" money.  We all have worked hard for our money and naturally want to protect it, which is in fact good stewardship.  According to a recent article in Church Leaders, Christians are now giving at 2.5% of their income but gave 3.3% during the Great Depression.   Both of these numbers are sad and do not reflect the Biblical instruction from Malachi 3:10 "bring the full tithe into the storehouse."  However, isn't it human nature during times of great stress to either grow closer to God or further away?  Clearly, God wants us to grow closer but not all of us do.  God has already given us victory in times of adversity.  His promise to Moses was passed on to Joshua.  Similarly, His promises as detailed in scripture are still as relevant today as they were in the beginning of time.  "As I was with Moses, so I will be with you; I will never leave you nor forsake you" (Joshua 1:5).
So, what does this have to do with stewardship?  First, we must understand what is a steward and what is an owner.   Owners have rights, but stewards have responsibility.  We are stewards with all of our belongings, even our money and children.  James 1:17 beautifully expounds upon this idea.  "Every good and perfect gift is from above, coming down from the Father of the heavenly lights, who does not change like shifting shadows" (James 1:17).  So, it is clear we are stewards for God, and all that we have and see belongs to Him.  "And all the tithe of the land, whether of the seed of the land, or of the fruit of the tree, is the Lord's… And concerning the tithe of the herd, or of the flock, even of whatsoever passeth under the rod, the tenth shall be holy unto the Lord. (Leviticus 27: 30, 32)
A steward lives for the day he will return the Master's goods to Him.  A good example is The Parable of the Talents in Matthew 25.  The third servant was given one talent (bag of gold) and the other two were given more.  The other two wisely invested their master's money and returned the original money to the master along with the interest which greatly pleased the master.  The third servant greatly displeased the master because he had hidden the money in a hole and only had the original amount to return to the master.
Is there a lesson for us from the third servant? Perhaps we should see that our view of God will determine the choices we make. Do we see Christ as "a hard man" with unfair expectations of us? (Matthew 25: 24).  If so, it will lead us to live in fear.  It is important to note that the money that was given to the servants was not their own.  Also, the interest they earned with the capital was not theirs to keep. The servants were only stewards of the master's investment, and it is the quality of their stewardship that the master sought to measure.
Isn't it interesting that the ancient word for the weight of gold was "talent."  Today, we consider a talent to be our skills and abilities.  We all have unique talents.   We should maximize the use of our talents (money, skills, time, witness, etc.) not for our own selfish purposes, but to honor God. The Parable of the Talents is not about salvation or works righteousness, but about how we use our work to fulfill our earthly callings.  The unfaithful steward in this parable didn't waste the master's money but rather he wasted an opportunity.  As a result, he was judged wicked and lazy.  We are responsible for what we do for God with what we have been given, and one day we will all be looking for the narrow gate and pass on the right side with the sheep.
Prayer:  Dear God, Help us to realize that everything that we have, including our financial resources, is a gift from You. May we be good stewards of all that we have. Amen.
Todd Shupe is a Men's Ministry Specialist through the General Commission of United Methodist Men and is in training to be a Certified Lay Minister through the Louisiana Conference of the United Methodist Church. He currently serves as the President of the Baton Rouge District of United Methodist Men and is a Board Member for Gulf South Men and serves on the Action Team for The Kingdom Group. He is a volunteer for the Walk to Emmaus, Grace Camp, and Iron Sharpens Iron. Todd resides in Baton Rouge, Louisiana.
We welcome your comments below.
Thank you for visiting. We trust that you have enjoyed reading our articles.
Read more below or search for more topics...
Civil Discourse "A new commandment I give to you, that you love one another: just as I have loved you, you also are to love one another. By this all people will know that you are my disciples, if you have love for one another"  (John 13:34-35). Have you noticed a breakdown in our ability as a society to engage in civil discourse?  I have.  It seems we prefer to argue with each other rather than engage in a constructive exchange of ideas.  The goal for many is to "win" the argument with a snarky comment.  This is particularly true on social...

Purpose And Proper Daily Use Of Prayer Perhaps one of the most intimate means available for us to communicate with God is through prayer. According to a recent Pew Research Center study, 55 percent of all Americans report that they pray each day. The same study also states that, at a rate of 14 percent, more American women pray daily compared to men. According to Todd Shupe however, a 55 percent would be a failing exam grade for us overall. That's an F, folks. "I think many of us have a false perception of God.  We see God as Santa Claus and approach...

Approach Prayer With Confidence And Thanksgiving Prayer is an essential component to our relationship with God. We offer prayers for those who are sick or in need of help and prayers of thanksgiving for our blessings. Prayer is also a time for us to be quiet and listen for the gentle voice of God. The Psalmist tells us in Psalm 46:10, "Be still and know that I am God." We all would be wise to focus on this promise while we wait on the Lord."Even if I don't hear a response to my prayer, I can still come away with peace...