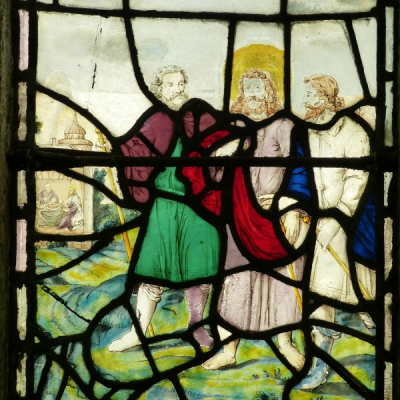 The Walk to Emmaus: The Best Spiritual Weekend Retreat
"When he was at the table with them, he took bread, gave thanks, broke it and began to give it to them. Then their eyes were opened and they recognized him, and he disappeared from their sight. They asked each other, "Were not our hearts burning within us while he talked with us on the road and opened the Scriptures to us?" (Luke 24:30-32 NIV).
The Walk to Emmaus "Walk" is a three-day spiritual retreat that came out of the Roman Catholic Cursillo movement. The Walk to Emmaus is held numerous times during the year at various locations throughout the U.S. and the world. Separate walks are held for men and women.  
Luke 24 tells of two of Jesus's followers walking to the village of Emmaus. Jesus joins them, although they do not recognize Him, and eventually begins to explain all of the Scriptures regarding Himself.  At nightfall, the men urged Jesus to stay with them and He agreed. He took the bread and blessed it. Then He broke it and gave it to them. Suddenly, their eyes were opened, and they recognized Him and at that moment He disappeared! The men returned to Jerusalem to tell their story to the eleven disciples.
The Walk to Emmaus is a unique experience of Christian spiritual renewal that begins with a three-day short course in Christianity.  It is an opportunity to meet Jesus Christ in a new way as God's grace and love is revealed to you through other believers.
The Walk to Emmaus experience begins with the prayerful discernment and invitation from a sponsor. After one accepts this invitation, they complete an application. The Emmaus leaders prayerfully consider each applicant and in God's time, the person is invited to attend a three-day experience of New Testament Christianity as a lifestyle. After the walk is over, participants are encouraged to join in weekly small groups to support each other in their ongoing walk with Christ.
Through the formational process of accountable discipleship in small groups and participation in the Emmaus community, each participant's individual gifts and servant-leadership skills are developed for use in the local church and mission. Participants are encouraged to find ways to live out their individual call to discipleship in their home, church and community.
The objective of Emmaus is to inspire, challenge and equip the local church member for Christian action in their homes, churches, communities, and places of work.  Emmaus lifts up a way for our grace-filled lives to be lived and shared with others.
There is much symbolism in the Luke 24 story regarding our own walk with Christ. How often do we fail to recognize Christ in our presence? Once we do recognize Him, do we act as His witnesses? I ask that you prayerfully consider being a pilgrim on the next Walk to Emmaus in your area.
Prayer:  Dear God, May our eyes be opened anew to Your love each time we receive Holy Communion.  Amen.
Todd Shupe is a Men's Ministry Specialist through the General Commission of United Methodist Men and is in training to be a Certified Lay Minister through the Louisiana Conference of the United Methodist Church. He currently serves as the President of the Baton Rouge District of United Methodist Men and is a Board Member for Gulf South Men and serves on the Action Team for The Kingdom Group. He is a volunteer for the Walk to Emmaus, Grace Camp, and Iron Sharpens Iron. Todd resides in Baton Rouge, Louisiana.
We welcome your comments below.
Thank you for visiting. We trust that you have enjoyed reading our articles.
Read more below or search for more topics...
Man Up: Use Lent to Prepare Your Hearts for Easter I love Easter egg hunts and chocolate rabbits, but there is so much more to Easter.  One critical part of Easter is Lent.  Lent is the period of 40 weekdays before Easter. It begins on Ash Wednesday, and Sundays are not counted. Lent is often observed with an element of self-denial.  I encourage men to lead your family by intentionally observing Lent which will be rewarding experience.  Below are some steps to consider on your Lenten journey.Reflect with your Family If I don't use Lent as a time of personal...

Who Is In Your Foxhole? "One who has unreliable friends soon comes to ruin, but there is a friend who sticks closer than a brother" (Proverbs 18:24 NIV). A few years ago I had the pleasure of meeting Coach Jeff Kisiah "Coach K" at an Iron Sharpens Iron men's equipping conference.  He spoke about the importance of foxhole friends and the strength of a threefold cord (Ecclesiastes 4:12).  This man of God recently went on to Glory, but he left behind a legacy.  The basis for the annual, national conference is Proverbs 27:17, "As iron sharpens iron, so does one man sharpen another." Men...

A Holy Calling "Fight the good fight of the faith. Take hold of the eternal life to which you were called when you made your good confession in the presence of many witnesses" (1 Timothy 6:12 NIV).There are many examples in the Bible of God calling His people.  He called out to Adam and Eve in Genesis 3, and to Samuel in 1 Samuel 3, and Elijah in 1 Kings 19.  These are all great stories of God seeking out His people in spite of their fear or inability to recognize His voice.  God later walked the earth in the form of Jesus and continued to...