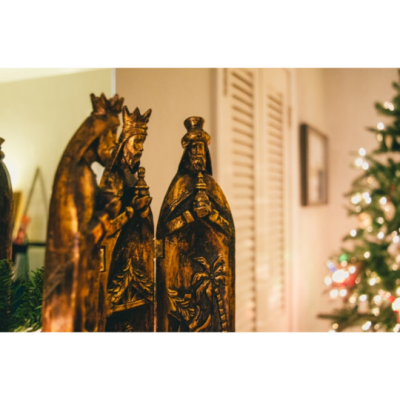 The Best Christmas Present
18 "All this is from God, who through Christ reconciled us to himself and gave us the ministry of reconciliation; 19 that is, in Christ God was reconciling the world to himself, not counting their trespasses against them, and entrusting to us the message of reconciliation. 20 Therefore, we are ambassadors for Christ, God making his appeal through us.  We implore you on behalf of
Christ, be reconciled to God" (2 Corinthians 5:18-20).
I love Christmas and the Advent season.   It is a special time of year for families and the church.   The Advent season allows us to prepare our hearts for the birth of the Christ child.   I also love all of the traditions that come with Christmas – decorating the tree with ornaments that have been passed down from generations, giving and receiving presents, candlelight service at church on Christmas eve, the smell of ginger bread baking and a fresh pine tree in the house, and the anticipation of Christmas day. 
One of the traditions of Christmas is the Nativity story.  The New Testament contains two Christmas stories. They appear in Matthew 1–2 and Luke 1–2.  In the familiar version of the Christmas story, Mary and Joseph travel from Nazareth to Bethlehem. Because there was no room in the inn, the baby Jesus is born in a stable and placed in a manger.   It is important to tell the Nativity story each year to help us better understand the Christ portion of Christmas.
I think as fathers and priests of our houses we should also teach our children about the best Christmas present ever – the blood of Christ on the cross at Calvary.    John 3:16 tells us, "For God so loved the world, that He gave His only begotten Son, that whosoever believeth in Him should not perish, but have everlasting life. For God so loved the world, that He gave his only begotten Son, that whosoever believeth on Him should not perish, but have eternal life."   We are reconciled to the Father by His sacrifice of His son.  God has provided us a path for forgiveness of sins that leads to life everlasting and salvation.  We do not deserve this, but we receive it as the ultimate blessing.  Ephesians 2:9 instruct us that "Salvation is not a reward for the good things we have done, so none of us can boast about it."
So, this Advent season I encourage you to enjoy your family, church services, and all the special traditions of your family.  Tell your children or grandchildren the Nativity story but also tell them that Jesus himself is the best present.  A life lived in Him and for Him will help build His kingdom on earth and will lead to life everlasting.  Now that is some gift!
Prayer:  Dear God, Thank you for sending your son to earth.  Thank you for giving us the way, the truth, and the life.  Help keep us mindful that His blood is the most precious gift that we can ever receive it.  Amen.
Todd Shupe is a Men's Ministry Specialist through the General Commission of United Methodist Men and is in training to be a Certified Lay Minister through the Louisiana Conference of the United Methodist Church. He currently serves as the President of the Baton Rouge District of United Methodist Men and is a Board Member for Gulf South Men and serves on the Action Team for The Kingdom Group. He is a volunteer for the Walk to Emmaus, Grace Camp, and Iron Sharpens Iron. Todd resides in Baton Rouge, Louisiana.
We welcome your comments below.
Thank you for visiting. We trust that you have enjoyed reading our articles.
Read more below or search for more topics...
Are You Living To Do or Living To Serve? "...choose this day whom you will serve..." (Joshua 24:15 ESV). I like to make "to do" lists.  I don't trust myself to remember the various big and little chores I need to do at home or at work so I always have a list for both.    The list is great for helping me keep track of projects and staying on top of things.  I feel a sense of accomplishment when I can cross something off of the list.  A close friend recently asked me about my attention to my list.  I appreciate his...

Special Needs Children & Special Needs Families "Start children off on the way they should go, and even when they are old they will not turn from it" (Proverbs 22:6 NIV).My second child, Kyle, was born May 24, 2002. He was a big, healthy baby and was, and will always be, a tremendous blessing to me. We noticed at an early age that he was not reaching the typical milestones for babies and toddlers in terms of walking, talking, etc. We had him tested for hearing loss, brain function, blood tests and more. All of the tests came back normal, but...

Getting To The Heart Of The Issue Over the years, I have spoken with many Christians and enjoyed having the opportunity to hear their testimony. Some are "intellectual Christians," so to speak, and believe that science has proved the existence of Christ and therefore they also believe. Many have provided me with compelling arguments for their Christian faith.   I also believe in Jesus and in science. However, at the heart of the issue is our heart.  Do you believe in Him in your heart and seek him with your whole heart? Jesus taught us in Matthew 22:37, "Love the Lord your God...