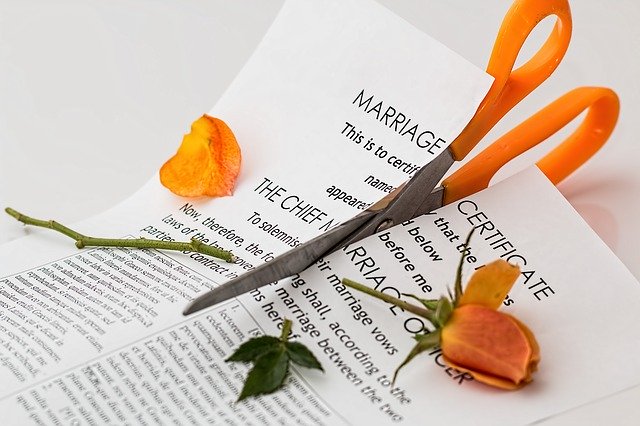 "Therefore, to keep me from being too elated, a thorn was given me in the flesh, a messenger of Satan to torment me, to keep me from being too elated.  Three times I appealed to the Lord about this, that it would leave me, but he said to me, "My grace is sufficient for you, for power is made perfect in weakness." So, I will boast all the more gladly of my weaknesses, so that the power of Christ may dwell in me.  Therefore I am content with weaknesses, insults, hardships, persecutions, and calamities for the sake of Christ; for whenever I am weak, then I am strong" (2 Corinthians 12:7-10 NIV).
Scripture teaches that marriage is a lifelong commitment. Jesus described the relationship between husband and wife this way in Matthew 19:6: "They are no longer two, but one flesh. Therefore what God has joined together, let no one separate."  I think our divorce rate is high because we fail to truly comprehend this message.  Dr. Craig Keener, Professor of Biblical Studies at Asbury Theological Seminary, explained the importance by saying, "Jesus reminds us that in the beginning God joined man and woman together. "One flesh" often refers to one's relatives or kin, so the husband and wife becoming 'one flesh' should be a family unit no less permanent than our families of origin should be."
The Bible only explicitly allows divorce for two reasons.  Jesus stated divorce is permissible due to adultery (Matthew 19:9).   Paul adds a second exception, in instances where an unbelieving spouse abandons the marriage (1 Corinthians 7).
If marriage is a Godly uniting of a couple together, then divorce is a secular process to separate what God has united.  The separation is not done with surgical precision and results in a "tearing apart."  This tearing is painful reminds me of the thorn in the side of the Apostle Paul as described in 2 Corinthians 12. 
In verse 7 Paul states, "Therefore, in order to keep me from becoming conceited, I was given a thorn in my flesh, a messenger of Satan, to torment me."  First, we need some context about the "thorn."  In the ancient Greek translation of the Old Testament known as the Septuagint, the word skolops (thorn) is "something which frustrates and causes trouble in the lives of those afflicted.
Notice that Paul states that the thorn was "given to him." His focus is not on the immediate pain but rather his assurance of the future glory that will come from this situation.  This is faith!  This is the same Paul that wrote to the church in Rome about this very concept of God turning bad into good.  "And we know that in all things God works for the good of those who love him, who have been called according to his purpose (Romans 8:28).
A "thorn in your soul" is what's left of your soul after it has been torn apart by divorce. God can and will heal you if you draw nearer to Him.  Your painful soul can be mended. The Bible says, "He restores my soul" (Psalm 23:3).   Many believe that God can restore their soul but are frustrated when He does not.  To claim the promise of Psalm 23 we need to live out the command of Psalm 19:7. "The law of the LORD is perfect, reviving the soul." Scripture is intended to revive your soul, but that can only occur when we do our part – trust and obey.
Proverbs 3:8 says that wisdom will bring "healing to your body and refreshment to your bones."  Wisdom comes from seeking God, learning more about Him, and surrendering fully to Him.  God understands our need for wisdom.  James 1:5 teaches, "If any of you lacks wisdom, you should ask God, who gives generously to all without finding fault, and it will be given to you."  It takes a wise man to recognize his need for wisdom and a wiser man knows the true source of all true wisdom.   Imagine the decrease in divorce rates if men loved their wives as Christ loved His church.   Imagine.
Prayer:  Dear God, Forgive us for tearing apart what you have joined together.  Send your Holy Spirit to teach us as we read Scripture.  Open our hearts and minds and help us to use your Word in our daily lives.  Grant us wisdom that can only come from You.  Amen. 
Todd Shupe is a Men's Ministry Specialist through the General Commission of United Methodist Men and is in training to be a Certified Lay Minister through the Louisiana Conference of the United Methodist Church. He currently serves as the President of the Baton Rouge District of United Methodist Men and is a Board Member for Gulf South Men and serves on the Action Team for The Kingdom Group. He is a volunteer for the Walk to Emmaus, Grace Camp, and Iron Sharpens Iron. Todd resides in Baton Rouge, Louisiana.
We welcome your comments below.
Thank you for visiting. We trust that you have enjoyed reading our articles.
Read more below or search for more topics...
Anger Can Be Good  "Fools vent their anger, but the wise quietly hold it back" (Proverbs 29:11 NLT).  Many people think that all anger is bad or sinful.  We tend to associate anger with a loss of control, shouting, and aggressive behavior.  However, anger can be good and only becomes sinful when it is expressed in an inappropriate way.  There is nothing wrong with anger if it is properly directed.  We are taught, "In your anger do not sin" (Ephesians 4:26).  We are less likely to model Godly behavior, and sin, if we are controlled by our anger rather than we control...

Want to Better Understand Your Identity? "Let us test and examine our ways, and return to the Lord!" (Lamentations 3:40 ESV). I have some friends that are interested in genealogy.  They want to better understand themselves by tracing their ancestry back as many generations as possible.  This is a fun process and can provide some interesting anecdotes about your family tree.  I think it is natural for all of us at some point in our lives to seek to better understand ourselves.  I have taken several personality profiles and spiritual gifts assessments.  They are interesting, useful, and yield very good information to help...

Fathering A Special Needs Child "1As he went along, he saw a man blind from birth. 2 His disciples asked him, "Rabbi, who sinned, this man or his parents, that he was born blind?" 3 "Neither this man nor his parents sinned," said Jesus, "but this happened so that the works of God might be displayed in him."  John 9:1-3 (NIV) On April 26, 2018, the Centers for Disease Control and Prevention (CDC) released new data on the prevalence of autism in the United States. This surveillance study identified 1 in 59 children (1 in 37 boys and 1 in 151 girls) as having autism spectrum disorder (ASD).  Autism spectrum disorder (ASD) and autism are both general...