What Is The Meaning of "Iron Sharpens Iron"?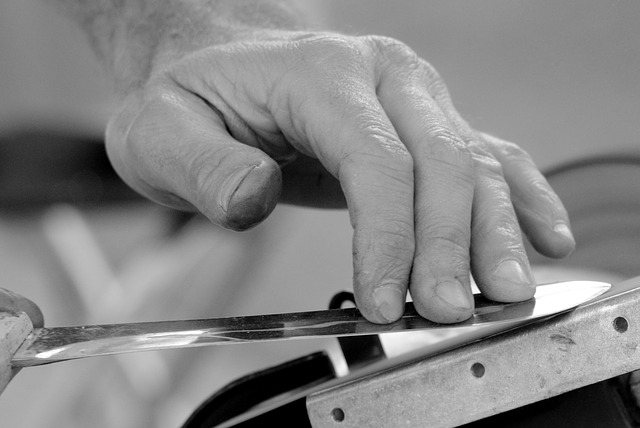 I am a volunteer with a national men's ministry known as "Iron Sharpens Iron." The name of our group is based on Proverb 27:17, "As iron sharpens iron, so one man sharpens another."  Iron Sharpens Iron is a Conference Network made up of individual ministries that are working interdependently to most effectively offer local church resources for men.
This group is accomplishing this by mobilizing ministries to resource local churches with a first-class one-day equipping conference that is designed for men age 13 and older.  These one-day conferences bring in world-class speakers to address critical topics that men of all ages deal with.
If you are struggling with self-control, I encourage you to first begin with prayer and ask God for His help. Then, go into the Bible and study and memorize some particular verses that speak to you and your particular situation. For me, my go-to verse in times when my patience is growing thin is Proverbs 29:11. It reads in part, "A fool always loses his temper, but a wise man holds it back." We must remember that all wisdom comes from God.  So how does one obtain wisdom?  James 1:5 tells us, "If any of you lacks wisdom, you should ask God, who gives generously to all without finding fault, and it will be given to you."
I strongly believe in men's ministry and the goal of Iron Sharpens Iron – to prepare the man to be a Christian leader in his home, church and community.  Gulf South Men is the host group for Iron Sharpens Iron in my area and I am proud to be a volunteer with these men.
We all need to be in community with each other.  Iron Sharpens Iron has equipped me to be the leader that I believe I am called to be. I need the accountability and fellowship of fellow Christian men in my life. They breathe life into me and I pray that God uses me to have the same effect on them and all that I meet.
There are numerous Christian-based retreats that are available. I encourage you to talk to your pastor and prayerfully consider what opportunity is best for you and/or your family. You will become a better Christian-based leader in your home, church, and community.
Todd Shupe is a Men's Ministry Specialist through the General Commission of United Methodist Men and is in training to be a Certified Lay Minister through the Louisiana Conference of the United Methodist Church. He currently serves as the President of the Baton Rouge District of United Methodist Men and is a Board Member for Gulf South Men and serves on the Action Team for The Kingdom Group. He is a volunteer for the Walk to Emmaus, Grace Camp, and Iron Sharpens Iron. Todd resides in Baton Rouge, Louisiana.
We welcome your comments below.
Thank you for visiting. We trust that you have enjoyed reading our articles.
Read more below or search for more topics...
All We Can Do Now Is Pray? "The effectual fervent prayer of a righteous man availeth much" (James 5:16 KJV).I was recently talking with a friend of mine whose wife is in hospice care.  He has been keeping in close contact with his pastor and passing along daily medical updates.  Each day the pastor told my friend to "hang in there" and then politely end the conversation.  Eventually her condition became critical and the doctors estimated that she only a few more days to live.  My friend spoke to his pastor that day and relayed the devastation news.  The pastor said,...

Dealing With Your Own Judas "but Jesus asked him, 'Judas, are you betraying the Son of Man with a kiss?'" (Luke 22:48 NIV).Perhaps one of the most memorable stories of the New Testament is the betrayal of Jesus by Judas Iscariot.  Jesus was also denied three times by Peter.  In fact, all the disciples fled for their own safety after Christ was arrested.    We know as humans that others will disappoint us and we will surely disappoint them.  We also know that as Christian we are called to forgiveness.  However, betrayal takes on a whole new meaning when the person that...

Words Of Life Or Death "But I tell you that everyone will have to give account on the day of judgment for every empty word they have spoken" (Matthew 12:36 NIV) You can turn on the tv news any day at any time to see that things are not peaceful.  People have strong opinions on political, social environmental, and other issues.  A variety of opinions and perspectives can help form a good decision.  However, we all tend to wear blinders and have a very limited field of view on certain issues.  This hinders our perspective and therefore our ability to see issues...