Approach Prayer With Confidence And Thanksgiving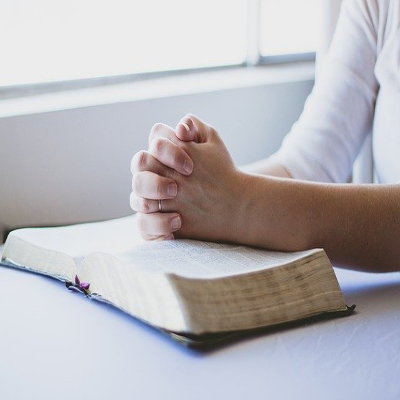 Prayer is an essential component to our relationship with God. We offer prayers for those who are sick or in need of help and prayers of thanksgiving for our blessings. Prayer is also a time for us to be quiet and listen for the gentle voice of God. The Psalmist tells us in Psalm 46:10, "Be still and know that I am God." We all would be wise to focus on this promise while we wait on the Lord."
Even if I don't hear a response to my prayer, I can still come away with peace and comfort knowing that God is God and He loves me more than I can begin to understand.  His presence and promises can give us a peace that transcends all understanding.
It is important for us to approach prayer in the right manner.  The Bible tells us what to pray — "The Lord's Prayer" (Matthew 6:9-13) — and also where to pray – "In your room," (Matthew 6:6).  However, it does not necessarily tell us how to prepare for prayer.
Good works are how we show Christian love to others.  However, our works should flow naturally as a result of our love for Christ and our desire to share His love.  Ephesians 2:8-9, teaches us, "8 For it is by grace you have been saved, through faith—and this is not from yourselves, it is the gift of God— 9 not by works, so that no one can boast."
I think too many Christians approach prayer in one of two ways. First, many come to God in fear and doubt. We know that God can do what we are asking — but are fearful that He will not do it as we want or when we want.
The second group of Christians I refer to as the "Santa Claus Christians." They think that if they are good all year then when they make a prayer request to God that He is "obligated" to do as asked. In both cases, resentment can develop if God does not provide what is asked and when it is asked.
It is important at this point to note that we follow God. God does not follow us, and this fact provides the opportunity to tell the story of God leading His people in Exodus 13:21-22. "By day the Lord went ahead of them in a pillar of cloud to guide them on their way and by night in a pillar of fire to give them light, so that they could travel by day or night."
I encourage you to approach prayer with confidence and thanksgiving that God already knows what you need and is already at work in delivering it to you.  Also, what He provides will likely not be what you requested. Instead, it will be better and it will be a holy blessing upon you. God loves you more than you can ever understand.
He will most certainly listen and respond to your prayers. We must be open to His response and accept it with gladness and thanksgiving because any gift from God is precious and holy — as was His son.
Prayer: Dear God, Thank you for the blessing of prayer and may we always be grateful for this means of grace.
Todd Shupe is a Men's Ministry Specialist through the General Commission of United Methodist Men and is in training to be a Certified Lay Minister through the Louisiana Conference of the United Methodist Church. He currently serves as the President of the Baton Rouge District of United Methodist Men and is a Board Member for Gulf South Men and serves on the Action Team for The Kingdom Group. He is a volunteer for the Walk to Emmaus, Grace Camp, and Iron Sharpens Iron. Todd resides in Baton Rouge, Louisiana.
We welcome your comments below.
Thank you for visiting. We trust that you have enjoyed reading our articles.
Read more below or search for more topics...
The Importance of Christian Study "All Scripture is God-breathed and is useful for teaching, rebuking, correcting and training in righteousness" (2 Timothy 3:16 NIV).For many of us the thought of studying brings back memories of cramming for exams in high school or college.  Many men would rather engage in Christian action rather than Christian study.  Through action we can see the fruits of our labor and be the Body of Christ in our neighborhood and beyond.Our goal as Christians should be to develop an intimate relationship with God.  There are many paths in which God can reveal Himself to us:  prayer,...

The Biblical Path To Peace "Do not be anxious about anything, but in every situation, by prayer and petition, with thanksgiving, present your requests to God. And the peace of God, which transcends all understanding, will guard your hearts and your minds in Christ Jesus.  Finally, brothers and sisters, whatever is true, whatever is noble, whatever is right, whatever is pure, whatever is lovely, whatever is admirable—if anything is excellent or praiseworthy—think about such things. Whatever you have learned or received or heard from me, or seen in me—put it into practice. And the God of peace will be with you" (Philippians 4:6-9 NIV).Americans are more stressed...

A Spiritual Health Check-Up - How is Your Discipleship? "The things you have heard me say in the presence of many witnesses entrust to reliable people who will also be qualified to teach others" (2 Timothy 2:2 NIV). Our health is very important to us.  Many of us try to watch what we eat and try to exercise.  We go to the doctor each year for a flu shot and an annual check-up.   There has been an increased awareness in recent years regarding the need for mental health awareness.   Our mental health is related to our physical health.  I wonder if we...