Approach Prayer With Confidence And Thanksgiving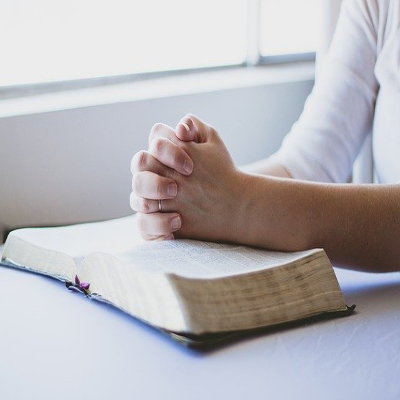 Prayer is an essential component to our relationship with God. We offer prayers for those who are sick or in need of help and prayers of thanksgiving for our blessings. Prayer is also a time for us to be quiet and listen for the gentle voice of God. The Psalmist tells us in Psalm 46:10, "Be still and know that I am God." We all would be wise to focus on this promise while we wait on the Lord."
Even if I don't hear a response to my prayer, I can still come away with peace and comfort knowing that God is God and He loves me more than I can begin to understand.  His presence and promises can give us a peace that transcends all understanding.
It is important for us to approach prayer in the right manner.  The Bible tells us what to pray — "The Lord's Prayer" (Matthew 6:9-13) — and also where to pray – "In your room," (Matthew 6:6).  However, it does not necessarily tell us how to prepare for prayer.
Good works are how we show Christian love to others.  However, our works should flow naturally as a result of our love for Christ and our desire to share His love.  Ephesians 2:8-9, teaches us, "8 For it is by grace you have been saved, through faith—and this is not from yourselves, it is the gift of God— 9 not by works, so that no one can boast."
I think too many Christians approach prayer in one of two ways. First, many come to God in fear and doubt. We know that God can do what we are asking — but are fearful that He will not do it as we want or when we want.
The second group of Christians I refer to as the "Santa Claus Christians." They think that if they are good all year then when they make a prayer request to God that He is "obligated" to do as asked. In both cases, resentment can develop if God does not provide what is asked and when it is asked.
It is important at this point to note that we follow God. God does not follow us, and this fact provides the opportunity to tell the story of God leading His people in Exodus 13:21-22. "By day the Lord went ahead of them in a pillar of cloud to guide them on their way and by night in a pillar of fire to give them light, so that they could travel by day or night."
I encourage you to approach prayer with confidence and thanksgiving that God already knows what you need and is already at work in delivering it to you.  Also, what He provides will likely not be what you requested. Instead, it will be better and it will be a holy blessing upon you. God loves you more than you can ever understand.
He will most certainly listen and respond to your prayers. We must be open to His response and accept it with gladness and thanksgiving because any gift from God is precious and holy — as was His son.
Prayer: Dear God, Thank you for the blessing of prayer and may we always be grateful for this means of grace.
Todd Shupe is a Men's Ministry Specialist through the General Commission of United Methodist Men and is in training to be a Certified Lay Minister through the Louisiana Conference of the United Methodist Church. He currently serves as the President of the Baton Rouge District of United Methodist Men and is a Board Member for Gulf South Men and serves on the Action Team for The Kingdom Group. He is a volunteer for the Walk to Emmaus, Grace Camp, and Iron Sharpens Iron. Todd resides in Baton Rouge, Louisiana.
We welcome your comments below.
Thank you for visiting. We trust that you have enjoyed reading our articles.
Read more below or search for more topics...
A MAN'S ROLE IN THE FAMILY AND IN THE CHURCH A man must model genuine godly masculine behavior to his children so that they will grow up as godly people and seek godly partners for marriage. That was part of the message from Retired U.S. Army Lt. Gen. Jerry Boykin at the September Man Up men's ministry meeting at Greenwell Springs Baptist Church. More than 175 men attended. Interim Senior Pastor Tony Perkins says the men's ministry program had become less active in recent years. His father, Richard Perkins, had to vacate his position as director of men's ministries in 2015 due...

Healing A Broken Relationship "If you enter your place of worship and, about to make an offering, you suddenly remember a grudge a friend has against you, abandon your offering, leave immediately, go to this friend and make things right. Then and only then, come back and work things out with God" (Matthew 5:23-24 NIV).One thing that is as certain as death and taxes is that others will let us down.  This can take many forms such as someone not living up to their end of an agreement, spreading gossip or taking advantage of our friendship.  It is natural to be...

Not Happy? "There is a time for everything, and a season for every activity under the heavens . . . a time to weep and a time to laugh, a time to mourn and a time to dance" (Ecclesiastes 3:1, 4 NIV).A recent Harris poll reported that in 2017 only 33% of Americans are happy.  A first reaction might be that only 33% are true followers of Jesus.  Christianity is the most adhered to religion in the United States, with 75% of polled American adults identifying themselves as Christian in 2015.Upon deeper reflection I realize that not all Christians are happy, nor should they be. ...