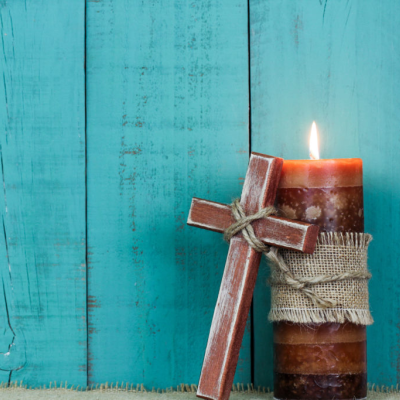 Stealing' Credit From God
"Every good and perfect gift is from above, coming down from the Father of the heavenly lights, who does not change like shifting shadows" (James 1:17 NIV).
As a young man I was proud of 'my' accomplishments. I worked hard, graduated, and got a job.   I bought a nice house and we had a nice summer vacation. I was proud of "my" accomplishments for the first 40 years of my life. "It was at this age that I was a pilgrim on the Walk to Emmaus and my eyes were opened to who I was and to Whom I belong. I still enjoyed my work, but I began to engage in a much more fulfilling work – helping to build God's kingdom on earth.
The number 40 has special significance in the Bible. In the Old Testament, when God destroyed the Earth with water, He caused it to rain 40 days and 40 nights (Genesis 7:12). After Moses killed the Egyptian, he fled to Midian where he spent 40 years in the desert tending flocks (Acts 7:30). Moses was on Mount Sinai for 40 days and 40 nights (Exodus 24:18). Moses interceded on Israel's behalf for 40 days and 40 nights (Deuteronomy 9:18, 25). The Israelites wandered for 40 years (Deuteronomy 8:2-5). In the New Testament, Jesus was tempted after fasting for 40 days (Matthew 4:2). There were 40 days between Jesus' resurrection and ascension (Acts 1:3). There are other examples, but I don't think God wants us to dwell on the number 40 or any other subliminal messages that some believe to be in the Bible.
I realize that all of us have been given fruits of the Spirit.  I was blessed by the opportunities I was presented with, and blessed with the ability to be successful in those opportunities; I now realize that all my blessings are from God. St. Paul instructs us in 1 Corinthians 1:4-5: "I always thank my God for you because of His grace given you in Christ Jesus. For in Him you have been enriched in every way — with all kinds of speech and with all knowledge." I now realize that anything good I have accomplished has been because of His grace, and anything bad that I have done has been because I have lived in the flesh and not in the Spirit. The greatest blessing you can receive is to be a blessing to others. Apart from Christ, we are nothing. But through Him, all things are possible. So give credit where credit is due. Your accomplishments and mine are from the generous blessings of God.  Be thankful and be blessed.
Prayer:  Dear God, Forgive us when we claim credit for ourselves. Help us realize that every good and perfect gift is from Your hand. Amen.
Todd Shupe is a Men's Ministry Specialist through the General Commission of United Methodist Men and is in training to be a Certified Lay Minister through the Louisiana Conference of the United Methodist Church. He currently serves as the President of the Baton Rouge District of United Methodist Men and is a Board Member for Gulf South Men and serves on the Action Team for The Kingdom Group. He is a volunteer for the Walk to Emmaus, Grace Camp, and Iron Sharpens Iron. Todd resides in Baton Rouge, Louisiana.
We welcome your comments below.
Thank you for visiting. We trust that you have enjoyed reading our articles.
Read more below or search for more topics...
Nurture Your Friendships "Remain in me, as I also remain in you. No branch can bear fruit by itself; it must remain in the vine. Neither can you bear fruit unless you remain in me" (John 15:4 NIV).I love to grow plants.  Every gardener knows that the key to a bountiful harvest of flowers, fruits, or vegetables is to carefully nurture the plants.  Gardening is a test of patience.  We plant and then wait. Our friendships are similar to gardening in that both require nurturing.  If we don't feed our relationships with our friends, we will eventually have no friends.  Life is about priorities. ...

What Are Your Priorities? Perhaps our greatest power is to establish our priorities.  These are the things that motivate us.  Priorities are based on values, beliefs, ideals, and commitment.  They define each of us as a person.  Some are motivated by fame or money.  Others are motivated by their friends or family.  In short, there can be hundreds of reasons that motivate us each day.  It is critically important to recognize that we alone have the power to set our priorities and if we do not set them, then society will set them for us.   Popular culture will set our priorities...

The Great Question: Where Is God? "But the fruit of the Spirit is love, joy, peace, forbearance, kindness, goodness, faithfulness, gentleness and self-control" (Galatians 5:22-23 NIV, emphasis added). The Bible teaches us that self-control is essential to living a Christian life. We must exercise our self-control or we become controlled by our weakness. Our weakness may be food, alcohol, drugs, pornography, etc.  The enemy knows our weakness better than we do ourselves and will encourage us to go to it rather than God in times of need.  Our lives can soon be dominated by our weakness and we are living completely in...