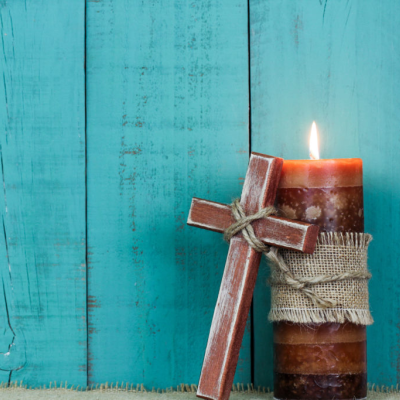 Stealing' Credit From God
"Every good and perfect gift is from above, coming down from the Father of the heavenly lights, who does not change like shifting shadows" (James 1:17 NIV).
As a young man I was proud of 'my' accomplishments. I worked hard, graduated, and got a job.   I bought a nice house and we had a nice summer vacation. I was proud of "my" accomplishments for the first 40 years of my life. "It was at this age that I was a pilgrim on the Walk to Emmaus and my eyes were opened to who I was and to Whom I belong. I still enjoyed my work, but I began to engage in a much more fulfilling work – helping to build God's kingdom on earth.
The number 40 has special significance in the Bible. In the Old Testament, when God destroyed the Earth with water, He caused it to rain 40 days and 40 nights (Genesis 7:12). After Moses killed the Egyptian, he fled to Midian where he spent 40 years in the desert tending flocks (Acts 7:30). Moses was on Mount Sinai for 40 days and 40 nights (Exodus 24:18). Moses interceded on Israel's behalf for 40 days and 40 nights (Deuteronomy 9:18, 25). The Israelites wandered for 40 years (Deuteronomy 8:2-5). In the New Testament, Jesus was tempted after fasting for 40 days (Matthew 4:2). There were 40 days between Jesus' resurrection and ascension (Acts 1:3). There are other examples, but I don't think God wants us to dwell on the number 40 or any other subliminal messages that some believe to be in the Bible.
I realize that all of us have been given fruits of the Spirit.  I was blessed by the opportunities I was presented with, and blessed with the ability to be successful in those opportunities; I now realize that all my blessings are from God. St. Paul instructs us in 1 Corinthians 1:4-5: "I always thank my God for you because of His grace given you in Christ Jesus. For in Him you have been enriched in every way — with all kinds of speech and with all knowledge." I now realize that anything good I have accomplished has been because of His grace, and anything bad that I have done has been because I have lived in the flesh and not in the Spirit. The greatest blessing you can receive is to be a blessing to others. Apart from Christ, we are nothing. But through Him, all things are possible. So give credit where credit is due. Your accomplishments and mine are from the generous blessings of God.  Be thankful and be blessed.
Prayer:  Dear God, Forgive us when we claim credit for ourselves. Help us realize that every good and perfect gift is from Your hand. Amen.
Todd Shupe is a Men's Ministry Specialist through the General Commission of United Methodist Men and is in training to be a Certified Lay Minister through the Louisiana Conference of the United Methodist Church. He currently serves as the President of the Baton Rouge District of United Methodist Men and is a Board Member for Gulf South Men and serves on the Action Team for The Kingdom Group. He is a volunteer for the Walk to Emmaus, Grace Camp, and Iron Sharpens Iron. Todd resides in Baton Rouge, Louisiana.
We welcome your comments below.
Thank you for visiting. We trust that you have enjoyed reading our articles.
Read more below or search for more topics...
Happy Memories from Bad Experiences "Every time I think of you, I give thanks to my God"  (Philippians 1:3 NLT). I love the encouragement found in the book of Philippians.  One of the reasons Paul wrote this book was to thank the church at Philippi for their help.  He writes, "I thank God for the help you gave me" (Philippians 1:5).  He also wrote, "no church entered into partnership with me in giving and receiving, except you only" (Philippians 4:15); "Even in Thessalonica you sent me help for my needs once and again" (Philippians 4:16).    The generosity of the Philippians to Paul compelled him...

The Walk to Emmaus: The Best Spiritual Weekend Retreat "When he was at the table with them, he took bread, gave thanks, broke it and began to give it to them. Then their eyes were opened and they recognized him, and he disappeared from their sight. They asked each other, "Were not our hearts burning within us while he talked with us on the road and opened the Scriptures to us?" (Luke 24:30-32 NIV).The Walk to Emmaus "Walk" is a three-day spiritual retreat that came out of the Roman Catholic Cursillo movement. The Walk to Emmaus is held numerous times during...

Love Is Everything "Love is patient and kind; it is not jealous or conceited or proud; love is not ill-mannered or selfish or irritable; love does not keep a record of wrongs" (1 Corinthians 13:4-5).I overheard a conversation between a young couple recently. The couple agreed that they deeply loved each other but the young lady said: "love is not enough." I was intrigued by her statement and gave it some thought. I certainly had no idea as to what struggles the couple was experiencing. However, I do have a decent understanding of the power of love. I pray that after...