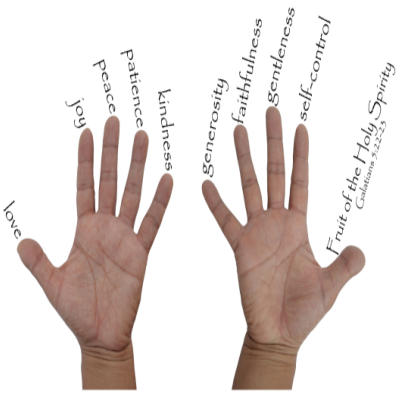 The 'Fruit of the Spirit' Attributes
"But the fruit of the Spirit is love, joy, peace, forbearance, kindness, goodness, faithfulness, gentleness and self-control. Against such things there is no law" (Galatians 5:22-23 NIV).
"The Fruit of the Holy Spirit" is a Biblical term that sums up nine attributes of a Christian. According to Paul the Apostle in his Epistle to the Galatians: "But the fruit of the Spirit is love, joy, peace, patience, kindness, goodness, faithfulness, gentleness and self-control" (Galatians 5:22-23).  These are all characteristics of the Holy Spirit's active presence in lives and a healthy Christian soul contains all of the fruits. There are nine attributes and each is a unique blessing.
1. Love:  Love gives freely without looking at whether the other person deserves it and it gives without expecting anything back. "Agape" describes the unconditional love God has for the world.
2. Joy:  Joy is contentment that is independent of the good or bad things that happen to us. True joy is evident in gladness during hard times (James 1:2-4). This is a supernatural joy that comes from the Spirit and is present regardless of our circumstances.
3. Peace:  Peace from the Spirit transcends all understanding (Philippians 4:7) and gives us a sense of calm knowing that God is in control and He loves us dearly.
4. Patience:  Other words that describe this fruit are lenience, long-suffering, forbearance, perseverance and steadfastness. Patience includes the concepts of forbearance, long-suffering and the willingness to bear wrongs patiently (Romans 5:3-4).
5. Kindness:  This fruit is evident in a desire to serve others. Kindness is the light that will conquer the darkness (malice).
6. Goodness:  True goodness is the character of God. Goodness is exhibited by your desire to see goodness in others and recognize all others as children of God.
7. Faithfulness:  A faithful person has integrity beyond reproach. We walk by faith not by sight (2 Corinthians 5:7).
8. Gentleness:  Gentleness chooses to defer to others. It forgives others, corrects with kindness and lives in tranquility.
9. Self-control:  Self-control is dying to our self and our desires of the flesh. It is choosing to live in the Spirit and follow His will.
We should all periodically review this list. One of the hardest things we can do is an honest self-evaluation of ourselves. John Wesley, the founder of the United Methodist Church, recognized this and organized "class meetings" in which attendance was mandatory and participants were asked to honestly answer questions regarding their spiritual health. The mission statement of the United Methodist Church is to make disciples of Jesus Christ for the transformation of the world. A disciple should be able to honestly assess his or her status on the nine fruits of the Spirit above.  I pray that we all will be a better disciple each day and will help bring about transformation of the world.
Prayer:  Dear God, As we grow closer to you may the Fruits of the Spirit be manifested in us as a powerful witness to You.  Amen.
Todd Shupe is a Men's Ministry Specialist through the General Commission of United Methodist Men and is in training to be a Certified Lay Minister through the Louisiana Conference of the United Methodist Church. He currently serves as the President of the Baton Rouge District of United Methodist Men and is a Board Member for Gulf South Men and serves on the Action Team for The Kingdom Group. He is a volunteer for the Walk to Emmaus, Grace Camp, and Iron Sharpens Iron. Todd resides in Baton Rouge, Louisiana.
We welcome your comments below.
Thank you for visiting. We trust that you have enjoyed reading our articles.
Read more below or search for more topics...
An Identity Crisis Hurts Men and Families "In Him we were also chosen, having been predestined according to the plan of Him who works out everything in conformity with the purpose of His will" (Ephesians 1:11 (NIV).One of the saddest things I have seen is what happens on occasion to some strong and successful men when they retire from their job.  Yes, they might embrace new hobbies and have more time for old hobbies.  However, they sometimes miss their old job, especially if they were in a position of leadership or authority.  I had a friend tell me once that at work he was somebody...

Not Happy? "There is a time for everything, and a season for every activity under the heavens . . . a time to weep and a time to laugh, a time to mourn and a time to dance" (Ecclesiastes 3:1, 4 NIV).A recent Harris poll reported that in 2017 only 33% of Americans are happy.  A first reaction might be that only 33% are true followers of Jesus.  Christianity is the most adhered to religion in the United States, with 75% of polled American adults identifying themselves as Christian in 2015.Upon deeper reflection I realize that not all Christians are happy, nor should they be. ...

Thank God for THE False Accusation "Having a good conscience, so that, when you are slandered, those who revile your good behavior in Christ may be put to shame"   (1 Peter 3:16 ESV). Have you ever falsely accused somebody of something and later discovered that your accusation was false?  Perhaps you accused your spouse of eating the last slice of pie only later to find out that it was one of the kids?  I think we all have both made and received false accusations.  It is part of the human condition. Rarely do we give thanks for false accusations.  The more serious the...