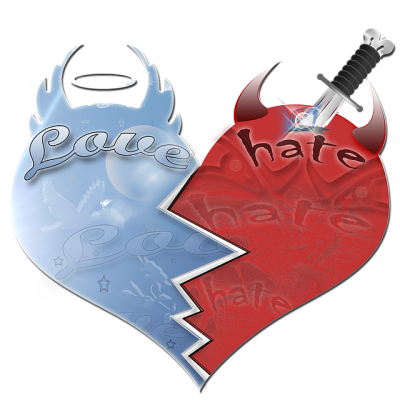 True Confession of the Heart: My Hatred Is Strong
"Anyone who claims to be in the light but hates a brother or sister is still in the darkness.   Anyone who loves their brother and sister lives in the light, and there is nothing in them to make them stumble.  But anyone who hates a brother or sister is in the darkness and walks around in the darkness. They do not know where they are going, because the darkness has blinded them" (1 John 2:9-11 NIV).
Holy Scripture encourages us to confess our sins to one another (James 5:16).  I have a confession to make.  I have deep seated hatred in my heart.  I refuse to consider my hatred a sin.  In fact, I hope you have the same hatred I do.  Scripture teaches us in 1 John 3:15, "Everyone who hates his brother is a murderer, and you know that no murderer has eternal life abiding in him."   Throughout Scripture we find warnings against hatred toward one another.  I know this is true, but my hatred persists and grows.  I pray for it to grow each day.  I have no hatred toward any person.  My hatred is toward sin.   Our sin acts as a barrier in our journey to become more like Christ. 
Jesus commanded us in Mark 12:30, "Love the Lord your God with all your heart and with all your soul and with all your mind and with all your strength."   To draw closer to God, we also need to hate what is evil with all our heart and with all our soul and with all our mind and with all our strength. 
Romans 12:9 teaches us, "Love must be sincere. Hate what is evil; cling to what is good."
Sin is evil and is to be hated.  Hatred of moral evil and of sin ought to be accompanied by cleaving to that which is good.  We deceive ourselves when we cling to the good but our silence is deafening in the face of evil.  As the great Edmund Burke once said, "for evil to succeed, it is only necessary for good men to do nothing."  Paul's loathing of evil was absolute, and equally intense and complete was his cleaving to that which is good. In both concepts, and their inter-relationships, he makes God known to us and presents the standard for Christian living.   
It is important to note that Paul did not say "Choose against evil and choose good." His words are very strong.   Choosing is not enough. It doesn't signal deep moral transformation. Remember the meaning of hypocrisy—changing the outside with willpower choices. Now Paul says, don't just avoid evil, but hate evil. Don't just choose good, embrace the good. Love the good. The journey of Christian living is a battle mainly to get our emotions changed, not just our behavior.  The Holy Spirit seeks to change us on the inside.  Then, our actions and words will be a natural manifestation of the Spirit and all that see us will see Him.
Prayer:  Dear God, Grant us the courage to not only love what is good but to reject and renounce in Your name all that is evil.  Search us and use what is good and prune all that is evil.  Amen.
Todd Shupe is a Men's Ministry Specialist through the General Commission of United Methodist Men and is in training to be a Certified Lay Minister through the Louisiana Conference of the United Methodist Church. He currently serves as the President of the Baton Rouge District of United Methodist Men and is a Board Member for Gulf South Men and serves on the Action Team for The Kingdom Group. He is a volunteer for the Walk to Emmaus, Grace Camp, and Iron Sharpens Iron. Todd resides in Baton Rouge, Louisiana.
We welcome your comments below.
Thank you for visiting. We trust that you have enjoyed reading our articles.
Read more below or search for more topics...
Can saying 'No' please God? "Therefore, since we are surrounded by such a great cloud of witnesses, let us throw off everything that hinders and the sin that so easily entangles. And let us run with perseverance the race marked out for us" (Hebrews 12:1 NIV). Each day we all get asked by others to do things.  Some tasks are fun, some are mundane, and some are someplace in the middle.  Service to others is an important way in which we show the love of Christ.  Service is ministry.  Service is important.I struggle with saying "no" to help people, especially when the request is...

What Does God Want From You? "For I desire mercy, not sacrifice, and acknowledgment of God rather than burnt offerings" (Hosea 6:6 NIV).Through our prayers and petitions we make it very clear what we want from God, but have you ever stopped to think what does God want from me?  I had a friend once tell me that for years he viewed God as a "mystical vending machine."  Many Christians believe that if we give our tithes and offerings to our local church, then we have "done our part."  Moreover, we sometimes confuse God with Santa Claus and think that if we...

Dealing With Anxiety: Have Faith, For 'God Is Our Partner' "But those who hope in the Lord will renew their strength. They will soar on wings like eagles; they will run and not grow weary, they will walk and not be faint" (Isaiah 40:31 NIV). Waiting is a daily occurrence: We wait in line at the grocery store, post office or on the phone. Sometimes, we are waiting long-term for news regarding a loved one who has suddenly become ill or was in an accident. Waiting is also a part of joyous occasions such as the birth of a child or marriage....