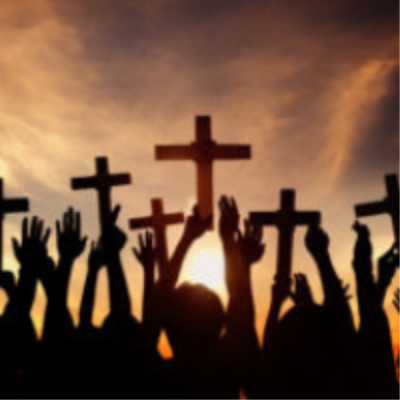 Use Your Words to Build Up the Body of Christ
"Death and life are in the power of the tongue: and they that love it shall eat the fruit thereof" (Proverbs 18:21 KJV).
We all say things that we regret and wish we could take back. Our words will invariably hurt somebody's feelings and cause pain. Proverbs 18:21 tells us, "Death and life are in the power of the tongue; And they that love it shall eat the fruit thereof."  The tongue is a symbol of life or death "Our words can be used to share the Good News with others or tear down the Body of Christ.
The Bible explains that what comes out of your mouth is simply what is in your mind, (Proverbs 12:18; Proverbs 26:28).  James 3:5-6 explains the importance of the tongue:  "Likewise, the tongue is a small part of the body, but it makes great boasts. Consider what a great forest is set on fire by a small spark.  The tongue also is a fire, a world of evil among the parts of the body.  It corrupts the whole body, sets the whole course of one's life on fire, and is itself set on fire by hell."
The above passage spurred me to look inward.  I sometimes do a poor job of reflecting on Matthew 12:36 before I speak,  "But I tell you that everyone will have to give account on the day of judgment for every empty word they have spoken."
A better use of our words is described in Romans 4:17.  It says that God "speaks of future events with as much certainty as though they were already past."  That's called speaking in faith — you announce it in order to experience it. Your words reflect your faith, which is critical to a strong prayer life. Matthew 21:22 reads, "If you believe, you will receive whatever you ask for in prayer."
I admire people who have the spiritual gift of faith.  I certainly have faith in God and love Him with all my heart and with all my soul and with all my mind (Matthew 22:37). I want to tell it like it could be, like it ought to be and like I think God wants it to be. I get too easily frustrated and begin to lean on my own understanding and then wonder why my path is not straight. I do not particularly enjoy a ministry that ONLY "tells it like it is" about the world. There are a lot of things in the world that are bad. Clergy and laity that only focus on the problems and not the opportunities are negative and depressing. They are in the "tell-it-like-it-is" business.  This does nothing to build up The Body of Christ.  A better option is to tell it like it could be! This brings life and hope to people.
For example, you could say to someone, "You're a lousy husband and you don't spend enough time with your family." However, any label — positive or negative — will reinforce the behavior.  I think a better option might be, "I see enormous potential in you. I urge you to let Jesus Christ into your heart and become the godly man that I know you can be." That's the kind of talk that builds up others and motivates change! Speak it in advance and speak it in faith!
Prayer:  Dear God, Help us to use words that build up the Body of Christ and bring honor and glory to You. Amen.
Todd Shupe is a Men's Ministry Specialist through the General Commission of United Methodist Men and is in training to be a Certified Lay Minister through the Louisiana Conference of the United Methodist Church. He currently serves as the President of the Baton Rouge District of United Methodist Men and is a Board Member for Gulf South Men and serves on the Action Team for The Kingdom Group. He is a volunteer for the Walk to Emmaus, Grace Camp, and Iron Sharpens Iron. Todd resides in Baton Rouge, Louisiana.
We welcome your comments below.
Thank you for visiting. We trust that you have enjoyed reading our articles.
Read more below or search for more topics...
Promise Keepers Is Improving Lives "If you make a vow to the Lord your God, do not be slow to pay it, for the Lord your God will certainly demand it of you and you will be guilty of sin.  But if you refrain from making a vow, you will not be guilty.  Whatever your lips utter you must be sure to do, because you made your vow freely to the Lord your God with your own mouth" (Deuteronomy 23:21-23 NIV). In a world where regular church attendance seems to have taken a back seat to simply not being inconvenienced, it's important...

The Battle for Purity "Blessed are the pure in heart, for they shall see God" (Matthew 5:8 ESV).According to recent statistics, there are over 24.5 million web sites dedicated to pornography.  A report by Bridges and Wosnitzer in 2007 found that there are 13,000 porn videos produced annually with revenue of $13 billion.   In the same year, 507 movies from Hollywood produced $8.8 billion.  Another report found that over 25% of all internet searches are for pornographic material.  I am certain that what was true in 2007 has not gotten any better today.  Marketing advertisers have long used sex and scantily...

Meal Time is Ministry Time "When He was at the table with them, He took bread, gave thanks, broke it and began to give it to them" (Luke 24:30 NIV). Many people have the false notion that ministry only occurs inside the walls of the local church.  The truth is we go to worship on Sunday to be fed the Word so that we can be the hands and feet of Christ – to feed others.  However, it should be noted that we need to feed ourselves throughout the week by reading Scripture, prayer and meditation, and small groups. We are all ministers.  We...