"Therefore, if anyone is in Christ, the new creation has come: The old has gone, the new is here!  (2 Corinthians 5:17 NIV).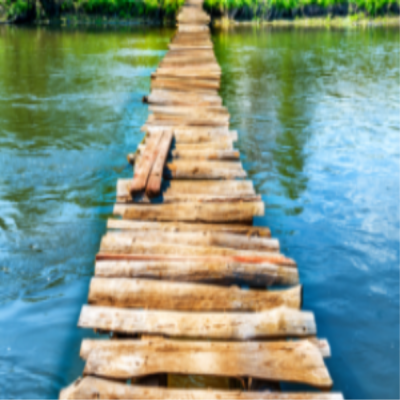 "This is just water under the bridge." If you can say this one day during trying times and mean it, know that you've achieved something that so many of us strive for. Forgiveness is a skill that takes time to learn and patience to practice when offering it upon others. That's because the world isn't always fair and gut-wrenching situations can't immediately be solved with forgiveness. However, time heals all wounds and those who practice this trait will feel a lot better than walking around all day with a grudge hung around your neck like an albatross.  There are Biblical teachings on forgiveness that are beneficial for us all.
Ecclesiastes 7:20 tells us, "Surely there is not a righteous man on earth who does good and never sins."   I realize that that this passage may be of little consolation to those of us who are hurting
due to trespasses against us. In time however, we'll understand that we're not perfect and we could one day be in the position where we're the one desperately seeking forgiveness.  In Luke 6:37, we see that this exact  predicament is addressed and resolved:  "Judge not, and you will not be judged; condemn not, and you will not be condemned; forgive, and you will be forgiven."  To the point of damage done to us, Matthew 6:15 has this to say: "But if you do not forgive others their trespasses, neither will your Father forgive your trespasses."
Forgiveness is a journey and a process and often takes time. If you are showing signs of increased criticism, negativity, and impatience, you are still on the journey.  It has been said that when we forgive someone the prisoner that we set free is ourself.  Unforgiveness also hurts our relations with others due to our sour disposition, depressed attitude, and tendency to easily be annoyed.  The hurt becomes water under the bridge when we achieve forgiveness.  We then release the other person from the debt and no longer desire payback for the offense. We acknowledge that the hurt is real and the relationship may be unable to be reconciled, but we also acknowledge that we are called to forgive others as Christ has forgiven us.
Prayer:  Dear God: Help us to forgive others as You have forgiven us. Whenever possible may we be reconciled with our brothers and sisters in Christ. Amen.
Todd Shupe is a Men's Ministry Specialist through the General Commission of United Methodist Men and is in training to be a Certified Lay Minister through the Louisiana Conference of the United Methodist Church. He currently serves as the President of the Baton Rouge District of United Methodist Men and is a Board Member for Gulf South Men and serves on the Action Team for The Kingdom Group. He is a volunteer for the Walk to Emmaus, Grace Camp, and Iron Sharpens Iron. Todd resides in Baton Rouge, Louisiana.
We welcome your comments below.
Thank you for visiting. We trust that you have enjoyed reading our articles.
Read more below or search for more topics...
Lessons from the Lepers "Jesus asked, "Were not all ten cleansed? Where are the other nine?"  (Luke 17:17 NIV) The Word teaches us in Luke 17 that Jesus healed ten men with leprosy. Lepers were social outcasts in Bible times and were forbidden from intermingling with others in society (Leviticus 13).   These ten men were living a life of extreme agony.  Leprosy attacks the body, leaving sores, missing fingers, missing toes, and damaged limbs. In many cases, the initial pain of leprosy gives way to something more terrible than that - a loss of sensation in nerve endings, leading to more damage...

A Ministry Making a Positive Impact - The KINGDOM Group! I want to bring to your attention to a ministry that is making a positive impact in locally and nationally.  The KINGDOM Group International, Inc. is a Baton Rouge based organization that is successfully addressing racial and cultural divisiveness.  For the past 3 years this ministry has held meetings and special events that have resulted in very positive changes in the area of unity and reconciliation.Giving a SINGLE GIFTin any amount; orBecoming a MONTHLY DONORof $10, $25, $50, $100 or any amount; orBy giving an "IN-KIND GIFT"(office space, equipment or supplies, volunteering, other donations,...

Christian Leadership at Home "Husbands, love your wives, just as Christ loved the church and gave himself up for her" (Ephesians 5:25 NIV). Men have been appointed by God as the head of the home. I understand that many women find this troubling and the Bible is full of stories of courageous women that have served the body of Christ. The truth is that many men have done a terrible job of leading their house in any capacity, particularly spiritually. Many men are not even physically present in the home or if so, they do not recognize Jesus as their Lord and...