"But if we live in the light, as God is in the light, we can share fellowship with each other. Then the blood of Jesus, God's Son, cleanses us from every sin. If we say we have no sin, we are fooling ourselves, and the truth is not in us" (1 John 1:7-8 NCV).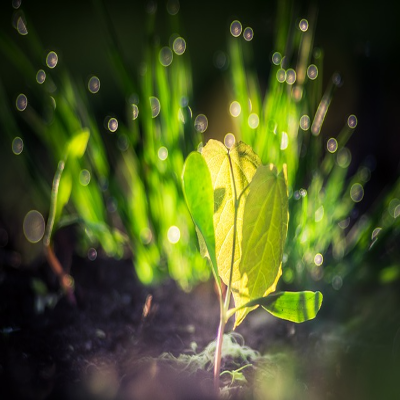 Light is essential for all life on earth.  Many plants will alter their growth to maximize the amount of light that their leaves can capture.  I love watching sunflowers move as the sun changes positions in the sky. 
The secular world thinks intimacy occurs in the dark, but true intimacy only occurs in the light. Jesus taught us in John 8:12, "I am the light of the world. Whoever follows me will not walk in darkness, but will have the light of life."  True intimacy is a close relationship with Jesus Christ and that comes when we bring our entire life to His light, which is the only true light.  He is the light of the world!
We tend to use darkness to hide our hurts, faults, fears, failures and flaws. But in the light, we bring them all out into the open and admit who we really are.  I am reminded of the story in John 3 of Nicodemus.  He was a Pharisee, a member of the Jewish ruling council, but he knew that God was with Jesus.  It is important to note that in the second verse of John 3 it begins, "He came to Jesus at night…" (John 3:2).  Nicodemus was using the darkness to hide his fear of being seen with Jesus.  This is ironic because he was using darkness as a cover to go see the light of the world.
For us as Christians to grow we need meaningful relationships.  This requires us to be authentic and humble.  This is the only way to grow spiritually and be emotionally healthy.  In this atmosphere, we can bring our sins out to the light among our trusted friends.  James 5:16 teaches, "Make this your common practice: Confess your sins to each other and pray for each other so that you can live together whole and healed" (James 5:16).
Authenticity is rare today.  It only happens when people get honest about who they are and what is happening in their lives.  It happens when people share their hurts, reveal their true feelings, confess their failures, disclose their doubts, and ask for help and prayer.
If we become open about our lives, we experience the blessing of authentic fellowship. The Bible instructs, "But if we walk in the light, as He is in the light, we have fellowship with one another, and the blood of Jesus, his Son, purifies us from all sin" (1 John 1:7).   What a friend we have in Jesus!
Prayer:  As a moth is attracted to an artificial light, our souls are attracted to you dear God – the light of the world.  Continue to draw us closer to your way, truth, and light.   In Jesus name we pray.  Amen.
Todd Shupe is a Men's Ministry Specialist through the General Commission of United Methodist Men and is in training to be a Certified Lay Minister through the Louisiana Conference of the United Methodist Church. He currently serves as the President of the Baton Rouge District of United Methodist Men and is a Board Member for Gulf South Men and serves on the Action Team for The Kingdom Group. He is a volunteer for the Walk to Emmaus, Grace Camp, and Iron Sharpens Iron. Todd resides in Baton Rouge, Louisiana.
We welcome your comments below.
Thank you for visiting. We trust that you have enjoyed reading our articles.
Read more below or search for more topics...
My Dream That Carried A Message From God "In the last days, God says, I will pour out my Spirit on all people. Your sons and daughters will prophesy, your young men will see visions, your old men will dream dreams" (Acts 2:17 NIV).I have lived 47 years and never felt that I had received a message from God.  I envied the people in the Bible that spoke to God either in person, through dreams or angels. I had decided that I was only going to hear God's word through Godly friends, church, small groups, and reading the Bible.I longed to...

The Unforgivable Sin? "But the father said to his servants, 'Quick! Bring the best robe and put it on him. Put a ring on his finger and sandals on his feet.  Bring the fattened calf and kill it. Let's have a feast and celebrate.   For this son of mine was dead and is alive again; he was lost and is found.' So they began to celebrate" (Luke 15:22-24 NIV). Years ago a dear friend, let's call him John, confided in me that he had made the "unforgivable sin."  I was expecting him to tell me about how he had committed blasphemy against the Holy...

Living Your Faith "What good is it, my brothers and sisters, if someone claims to have faith but has no deeds? Can such faith save them? Suppose a brother or a sister is without clothes and daily food. If one of you says to them, "Go in peace; keep warm and well fed," but does nothing about their physical needs, what good is it? In the same way, faith by itself, if it is not accompanied by action, is dead" (James 2 14-17) I think I can speak for most of us when I say that we typically have an easy time...