What Are Your Priorities?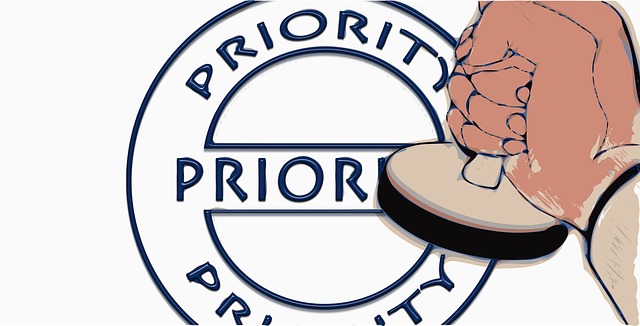 Perhaps our greatest power is to establish our priorities.  These are the things that motivate us.  Priorities are based on values, beliefs, ideals, and commitment.  They define each of us as a person.  Some are motivated by fame or money.  Others are motivated by their friends or family.  In short, there can be hundreds of reasons that motivate us each day.  It is critically important to recognize that we alone have the power to set our priorities and if we do not set them, then society will set them for us.   Popular culture will set our priorities to feed our flesh. 
If we prayerfully chose our priorities we will use our imagination, intelligence, and desire.   An authentic priority will give your life meaning and will be well defined, provide enthusiasm, and be free from the force of our current circumstances.  A priority must also be realistic.  Some people wait until they are on their death bed to establish their true priorities.  This is a shame.  Nobody with terminal cancer ever wished that they had spent more time at work. 
Our priorities are a product of how we spend our time, money, and thoughts.  As a Methodist, all members are called to faithfully participate support the church with their prayers, presence, gifts, and service.  Doesn't this sound very similar to time, money, and thoughts?  In short, the church is calling its members to make God a priority and be a disciple of Him
Scripture teaches us that time is important.  "Teach us to number our days, that we may gain a heart of wisdom" (Psalm 90:12).  Each day is a gift from God and should be used to bring honor to Him, not ourselves.  I think time is our most precious priority.  If we use our time to help others, are we not showing the love of God?  Consider these holy words from Matthew 25:40.   "The King will reply, 'Truly I tell you, whatever you did for one of the least of these brothers and sisters of mine, you did for me.'
Money is important for all of us to provide for ourselves and our families, but we should not treat it as a "golden calf."   We often pursue earthly wealth with little to no consideration to God's blessing.  The pursuit of wealth is beautifully addressed in Matthew 6:19-21.   "Do not store up for yourselves treasures on earth, where moths and vermin destroy, and where thieves break in and steal.  But store up for yourselves treasures in heaven, where moths and vermin do not destroy, and where thieves do not break in and steal.  For where your treasure is, there your heart will be also."
Our thoughts have tremendous power and often lead to action.  Perhaps this is why the Apostle Paul instructed us in Philippians 4:8: "Finally, brothers and sisters, whatever is true, whatever is noble, whatever is right, whatever is pure, whatever is lovely, whatever is admirable–if anything is excellent or praiseworthy–think about such things."  Paul elaborates on this concept in 2 Cor. 10:5: "We demolish arguments and every pretension that sets itself up against the knowledge of God, and we take captive every thought to make it obedient to Christ" (2 Cor. 10:5).
We would all be wise to prayerfully set our own priorities.  Be blessed.
Todd Shupe is a Men's Ministry Specialist through the General Commission of United Methodist Men and is in training to be a Certified Lay Minister through the Louisiana Conference of the United Methodist Church. He currently serves as the President of the Baton Rouge District of United Methodist Men and is a Board Member for Gulf South Men and serves on the Action Team for The Kingdom Group. He is a volunteer for the Walk to Emmaus, Grace Camp, and Iron Sharpens Iron. Todd resides in Baton Rouge, Louisiana.
We welcome your comments below.
Thank you for visiting. We trust that you have enjoyed reading our articles.
Read more below or search for more topics...
A Christian Perspective on Marriage "That is why a man leaves his father and mother and is united to his wife, and they become one flesh"  (Genesis 2:24 NIV). At almost every marriage ceremony that I have attended, the words "What God has put together, let no man separate," are often spoken by the pastor or person conducting the ceremony. Rings are also exchanged by the happy couple. The rings are essentially a circle which has no beginning or end and is therefore a symbol of infinity. It is endless and eternal -- just the way love should be. The wedding ring is worn on...

The True Meaning Of Salvation "Therefore, my dear friends, as you have always obeyed--not only in my presence, but now much more in my absence--continue to work out your salvation with fear and trembling" (Philippians 2:12 NIV).I had heard the term salvation for years, but was not entirely clear of its meaning. I have come to understand that salvation is "deliverance from danger or suffering." To save is to deliver or protect. The word carries the idea of victory, health or preservation. Sometimes, the Bible uses the words "saved" or "salvation" to refer to temporal, physical deliverance -- such as St. Paul's deliverance from prison...

The Unforgivable Sin? "But the father said to his servants, 'Quick! Bring the best robe and put it on him. Put a ring on his finger and sandals on his feet.  Bring the fattened calf and kill it. Let's have a feast and celebrate.   For this son of mine was dead and is alive again; he was lost and is found.' So they began to celebrate" (Luke 15:22-24 NIV). Years ago a dear friend, let's call him John, confided in me that he had made the "unforgivable sin."  I was expecting him to tell me about how he had committed blasphemy against the Holy...