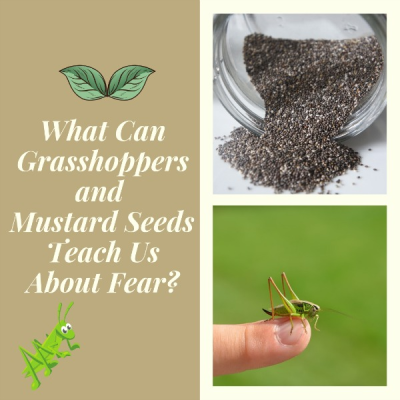 What Can Grasshoppers and Mustard Seeds Teach Us About Fear?
"The Lord himself goes before you and will be with you; He will never leave you nor forsake you. Do not be afraid; do not be discouraged" (Deuteronomy 31:8 NIV).
Fear is our natural response to physical or emotional danger.  Fear can be healthy to help us avoid dangerous situations.  We often fear situations that are not as serious as we perceive, which can trigger an extreme, and often unnecessary, fight-flight-or-freeze response. As a result, we may find ourselves avoiding challenges that could benefit them in the long run or hanging back during social interactions for no good reason.
When I think about the root cause of so many mistakes and spiritual pitfalls in my life, the source seems to be fear. Fear will cause us to buckle and settle for less than God's best. It'll cause us to disobey after diluting our trust in Him, and even when do stay strong, it'll rob us of our peace and joy.  The enemy wants to keep us fearful and not faithful.
Numbers 13 tells us that twelve spies went into the Promised Land to scout it out before the Hebrew nation was to enter and claim what God promised them.  Joshua and Caleb came back ready to invade. The other 10 spies were terrified of the so called "giants" in the land.  They later confessed, "We seemed like grasshoppers in our own eyes, and we looked the same to them (Numbers 13:33)."  
Why did the "giants" view the ten spies as little "grasshoppers"? Because the spies viewed themselves as little "grasshoppers."  Instead of trusting God, believing His promise, and moving out with courage, fear paralyzed them.  If we see ourselves as grasshoppers, we will always see giants and deny ourselves the blessings that God has placed before us.
The cure for fear is faith.  Matthew 17 teaches about a man that brought his sick son to Jesus to heal.  The man stated that he had previously brought his son to the disciples, but they could not heal him.  Jesus rebuked the demon, and the boy was immediately healed.  The disciples asked Jesus why they could not drive the demon out.  "He replied, "Because you have so little faith. Truly I tell you, if you have faith as small as a mustard seed, you can say to this mountain, 'Move from here to there,' and it will move. Nothing will be impossible for you (Matthew 17:20-21).
The faith of a mustard seed is enough for us to move mountains and certainly to conquer any real or imaginary giant.  Faith and confidence are important in our spiritual and secular life.    If a potential customer or client senses that you possess a "grasshopper mentality" they will pick up on it. "For as a man thinks in his heart, so is he" Proverbs 23:7.  Think of yourself as a child of God, and He loves you more than words can describe. 
Prayer:  Dear God:  Please help us to strengthen our faith in you.  We rebuke fear from the enemy in your name.  Be with us, lead us, and guide us.  Amen.
Todd Shupe is a Men's Ministry Specialist through the General Commission of United Methodist Men and is in training to be a Certified Lay Minister through the Louisiana Conference of the United Methodist Church. He currently serves as the President of the Baton Rouge District of United Methodist Men and is a Board Member for Gulf South Men and serves on the Action Team for The Kingdom Group. He is a volunteer for the Walk to Emmaus, Grace Camp, and Iron Sharpens Iron. Todd resides in Baton Rouge, Louisiana.
We welcome your comments below.
Thank you for visiting. We trust that you have enjoyed reading our articles.
Read more below or search for more topics...
Book Review: Overcoming Racial And Cultural Barriers To Disciple Men by Rev. Elmo Winters "And hath made of one blood all nations of men for to dwell on all the face of the earth, and hath determined the times before appointed, and the bounds of their habitation" (Acts 17:26 KJV).Each generation faces unique challenges that historians use to define that time period or generation.  There are some challenges that seem to transcend time and linger from one generation to the next.  The issue of race is as old as the Biblical story of the Samaritan woman at the well that...

Where Are You On The Road From Capernaum to Cana? "Wait for the LORD; be strong, and let your heart take courage; wait for the LORD" (Psalm 27:14 ESV).It has often been said that two things are certain in this life – death and taxes.  I would add one more to the list – problems.   We all face problems in life that are too great for us alone to handle.  I do not  know your particular story but I do know that each reader is in one of three seasons in life:  (1) in a storm, (2) exiting a storm, or...

Knowledge "My child, listen to what I say, and treasure my commands. Tune your ears to wisdom, and concentrate on understanding. Cry out for insight, and ask for understanding. Search for them as you would for silver; seek them like hidden treasures. Then you will understand what it means to fear the LORD, and you will gain knowledge of God. For the LORD grants wisdom! From His mouth come knowledge and understanding" (Proverbs 2:1-6 NLT).I think society tends to confuse knowledge with education.  However, a person can have extensive education and college degrees and not necessarily be very knowledgeable.   Perhaps they...