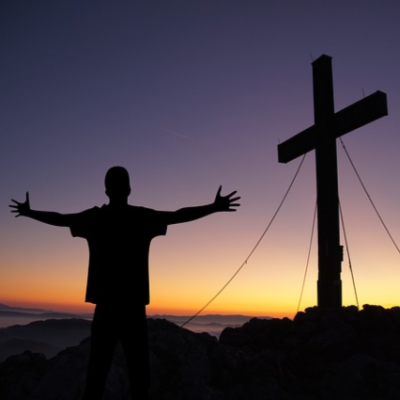 Who Is Responsible For My Salvation?
"So then, each of us will give an account of ourselves to God" Romans 14:12 (NIV).
Throughout the Bible we are encouraged whenever possible to live in peace with our neighbors.  For example, Scripture teaches us to live in harmony (Romans 12:16), carry each other's burdens (Galatians 6:2), and help others in need (Deuteronomy 15:11).   Godly living calls us to turn the other cheek and returning evil with love.  We have the ability, and the Christian joyful obligation, to positively impact each other's spiritual lives.  There is certainly strength in numbers.  You may recall the Scripture from Ecclesiastes 4:12, "Though one may be overpowered, two can defend themselves. A cord of three strands is not quickly broken."
As a young man I took piano lessons and had a team.  My teacher and parents were my support team.  I was dependent on my teacher's expert instruction to improve as a pianist.  Similarly, I treasured the moral and financial support from my parents.  Their encouragement and support meant everything to me.  Each year all of the teacher's students would participate in a recital performance.  One by one we would go to the piano and play a song.  At that moment, each student stood alone.
I shared that story because it is similar to our path to salvation.  In this fallen and temporary world, we do indeed carry each other's burdens.  We live out Proverbs 27:17 in formal and informal small groups.  Teamwork is essential to build God's kingdom on earth.  We are called to live in community.  Matthew 18:20 encourages small groups by teaching us, "For where two or three gather in my name, there am I with them." 
However, we are ultimately responsible for our own salvation.  The Apostle Paul addresses this in Philippians 2:12.  "Therefore, my dear friends, as you have always obeyed—not only in my presence, but now much more in my absence—continue to work out your salvation with fear and trembling."  Please note the wording "work out your salvation."  Paul is clearly telling us that nobody except you can achieve your salvation.  This is consistent with his letter to Romans.  In Romans 14:12 he tells us exactly who will ultimately give our account to God.  "So then, each of us will give an account of ourselves to God."   My account will be given by me, and your account will be given by you.  Your pastor, parents, friend, or Sunday school teacher will not give your account to God.  I certainly don't want to die today, but if I do I am confident in my salvation through the grace of God and the blood of His son.  I stand firm on the promise of Romans 10:9-10.  "Because, if you confess with your mouth that Jesus is Lord and believe in your heart that God raised him from the dead, you will be saved. For with the heart one believes and is justified, and with the mouth one confesses and is saved."
Prayer:  Dear good and gracious God, You have blessed us with community.  From the beginning, you knew it was not good for man to live alone.  We thank you for fellow Christians that help, challenge, and sharpen us.   We joyfully confess with our mouth and believe in our heart that Jesus in our Lord and savior.  We take comfort in knowing that on the day of your choosing we will hear your words "Well done good and faithful servant" and we will join the great cloud of witnesses.  Amen.
Todd Shupe is a Men's Ministry Specialist through the General Commission of United Methodist Men and is in training to be a Certified Lay Minister through the Louisiana Conference of the United Methodist Church. He currently serves as the President of the Baton Rouge District of United Methodist Men and is a Board Member for Gulf South Men and serves on the Action Team for The Kingdom Group. He is a volunteer for the Walk to Emmaus, Grace Camp, and Iron Sharpens Iron. Todd resides in Baton Rouge, Louisiana.
We welcome your comments below.
Thank you for visiting. We trust that you have enjoyed reading our articles.
Read more below or search for more topics...
Evangelism Begins With Discernment "Calling the Twelve to Him, He began to send them out two by two and gave them authority over impure spirits"  (Mark 6:7 NIV) Evangelism is typically defined as the spreading of the Christian gospel by public preaching or personal witness.  Many Christians are uncomfortable with active engagement in evangelism because they do not consider themselves a preacher and are too timid to engage in personal witness. The gift of evangelism is directly from Christ:  "So Christ himself gave the apostles, the prophets, the evangelists, the pastors, and teachers."  (Ephesians 4:11).You may not be called to pastoral ministry...

Finding Peace During the Corona Virus Pandemic "God says, "I will save those who love me and will protect those who acknowledge me as Lord.  When they call to me, I will answer them; when they are in trouble, I will be with them.  I will rescue them and honor them.  I will reward them with long life; I will save them" (Psalm 91:14-16 GNT). Many people are scared due to the uncertainty regarding the Coronavirus (CORVID-19).  I think each time a politician tells the public "don't panic" that it unfortunately causes some to panic more.  I am a person of faith but also of science.  As...

Read Scripture And Then Use It "Everyone who hears these words of mine and puts them into practice is like a wise man who built his house on the rock" (Matthew 7:24 NIV). I enjoy reading the Bible, and I if you are reading this you probably do as well.  I also enjoy group Bible studies, Sunday School, small groups and any other means of studying and learning Scripture.  I study Scripture because I want to learn more about God.  I know "All Scripture is God-breathed and is useful for teaching, rebuking, correcting and training in righteousness so that the servant of God may be...